A few weeks ago, a landmark court case was settled between crypto-anarchist and guns-rights activist Cody Wilson and the US government. After forcing his organization, Defense Distributed, to take 3D printable gun models offline back in 2013, Wilson will now be able to legally share his DIY firearms with the world.
Following the settlement, Defense Distributed announced that it is planning to upload the 3D gun blueprints to its website starting on August 1.
Learn more: 2018 3D Printed Gun Report – All You Need to Know
Obviously, the court decision has sparked controversy and alarm from gun control activists everywhere. This includes New York Senator and Democratic leader Chuck Schumer, who recently shared his concerns on the issue during a press conference last Sunday.
"This online site shows you, how at your home, with a simple 3D printer, you can make a plastic AR-15, an AR-10, a very dangerous semi-automatic assault-style weapons out of plastic in your own basement," Schumer cautioned during the conference.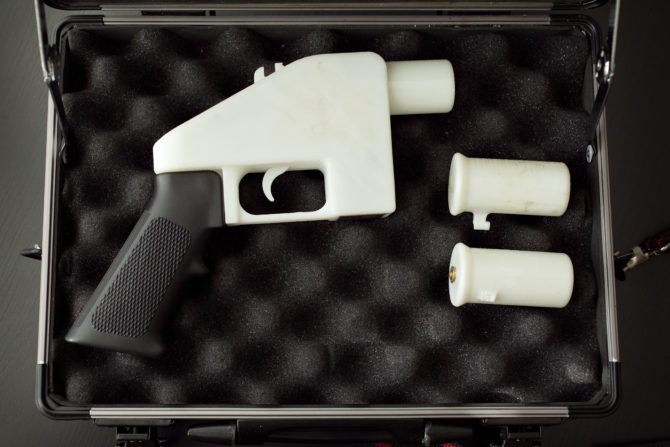 Democrats Push Back Against Court Settlement Allowing DIY Gun Models Online
The Democratic senator fears that the settlement will allow people to use 3D printers to create weapons in their own home. Not only will the court's decision make DIY firearms more accessible, but also virtually untraceable. Additionally, DIY guns that are printed out of plastic can also sneak through metal detectors and into high security areas.
Sen. Schumer also shared his belief that 3D printing has advanced to the point where anyone with $1,000 and internet can access these files and create a 3D printed firearm.
"We are looking at a world in which anyone with a little bit of cash can bring an undetectable gun that can fire multiple bullets anywhere — including planes, government buildings, sporting events and schools. 3D printers are a miraculous technology that have the potential to revolutionize manufacturing, but we need to make sure they are not being used to make deadly, undetectable weapons," Schumer added.
The New York Senator has also joined with Sen. Patrick Leahy of Vermont and Sen. Bill Nelson of Florida to call for an extension that would prevent the gun models from going online next month.
Source: NBC New York