British company Steelman 3D offers filaments, build plates and even a 3D printing service. In 2015, the company also started a successful Kickstarter campaign for a dedicated finishing tool for 3D prints called "Modifi3D".
Three years later the company now extends its lineup with the "Modifi3d Pro", which is now available on Kickstarter. At the time of writing, the goal was reached with the help from 550 backers who invested $30.000.
The tool can be heated up to 450 degrees Celsius. The temperature is dialed in via buttons and will be shown on a small LCD screen. According to the manufacturer, it takes 30 seconds for the tip to heat up to 350 degrees Celsius.
The power supply doesn't charge the unit, it gives direct power. After the heating is completed, you can pluck the pen from the stand and start working (technically, you could even solder with the Modifi3d Pro, but there's no tip provided yet; neither Steelman made it a stretch goal).
This solves one of the drawbacks of the original Modifi3d tool. Its USB cable was too short and ever so often managed to tangle up, so the hot tool managed to slip on your desk or workspace. The new Modifi3d Pro uses a stand and a detachable pen tool – problem solved.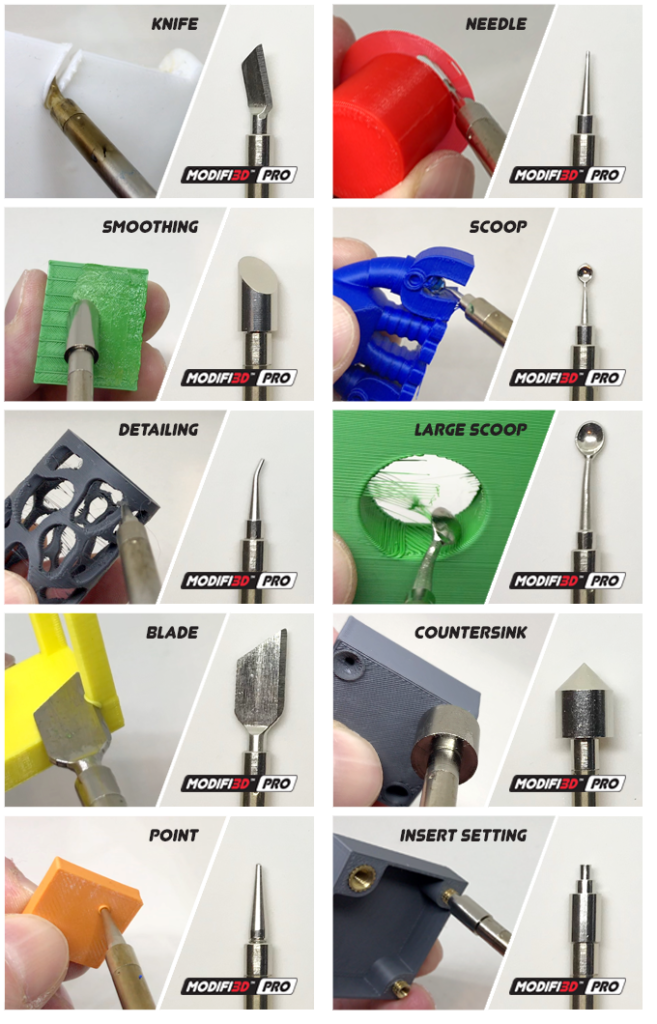 Whereas the original Modifi3d offered just 4 tips, the Modifi3d Pro now sports 10. They can be divided into three categories: Smoothing uneven prints, cutting away parts, or making holes, countersinks et al (see image above).
So you can cut prints, remove support structures, splice prints, make holes and smoothen surfaces.
One of the tools really stands out: It's the "Insert Setting". With it, you can heat up a small metal part and let it slowly melt it on the print, while it's still hot.
The tool is CE certified and will be sent directly from the UK in July 2019. In the last campaign, Steelman managed to deliver right on time.