Despite our tendency to place hardware on a pedestal, the heart and soul of any 3D printer is the software behind it. From the design of the 3D model itself, to the way that your 3D printer decides to manufacture the object, these pertinant tasks are performed behind the scenes while the machinary takes all of the glory.
Typically, the process begins with the design of a 3D CAD model, which is then exported into a slicer when it's prepped for 3D printing. If you have multiple 3D printers operating at once, a 3D printer management tool will give you the ability to monitor and control each print job remotely. Each of these software programs are critical to the 3D printing workflow, but oftentimes they come packaged separately, making it difficult to keep things consistant as you jump from one platform to the next.
That's why the California-based 3D printing company MatterHackers created MatterControl, an all-in-one software that brings 3D design, slicing, and 3D printer management onto a single platform.
After releasing the first version of its open-source 3D printer host back in 2016, MatterHackers has just announced the release of MatterControl 2.0. The development team has integrated a plethora of new features into the software, which can be downloaded for free from the MatterHackers webstore.
With MatterControl 2.0, users will be able to design parts from scratch or browse exisiting projects via the Design Apps. The software also handles the slicing process with grace, offering full sway over support generation, bed leveling, and other advanced settings. After that, you can print the model and monitor the print job straight from the MatterControl platform, effectively eliminating the need for multiple programs.
What's New with MatterControl 2.0?
The team behind MatterControl has been working to create a vast array of new features for the company's flagship software platform. One aspect that they focused on for the latest version was making it equally capable for both beginners and advanced users. There have been a lot of changes implemented into MatterControl 2.0, including how the slicer operate and the way the interface looks.
MatterControl 2.0 is equipped with better 3D design capabilities, making it easier to create quality 3D models with a higher complexity than other basic-level CAD programs. To support this, MatterHackers has ushered in a new range of Design Tools that provide a complete set of modeling primitives that can be used to create 3D printable designs. These tools allow users to combine shapes to build complex objects, and even to generate customized supports.  All in all, these new Design Tools make the 3D modeling process as simple as possible, paving the way for more creative endevours.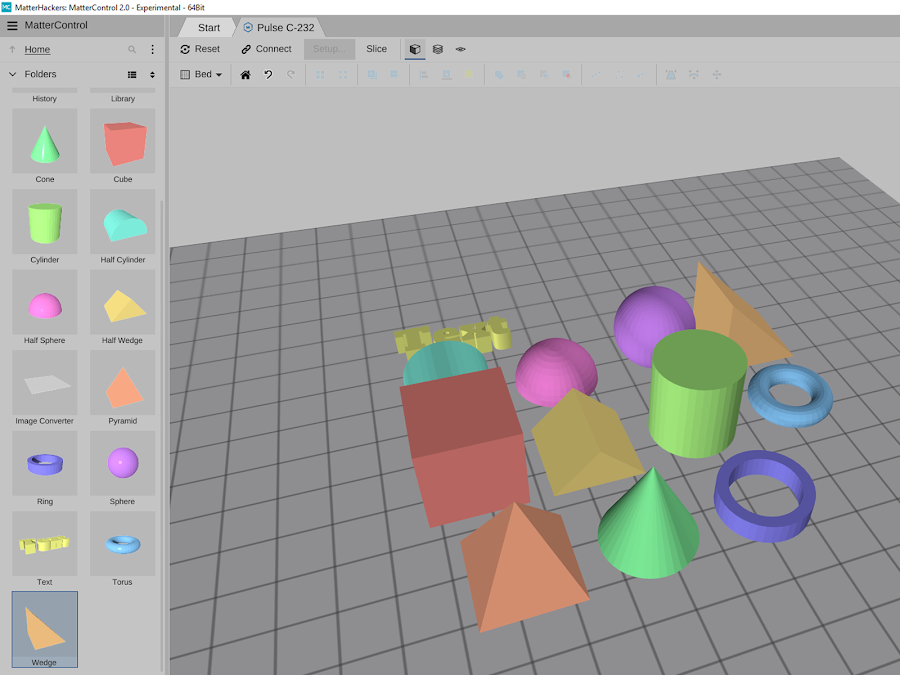 The new version of MatterControl 2.0 is also packed with new Design Apps, which offer customizable design templates you can use to create your own unique 3D models. The new apps will enable users to integrate design features at the click of a button, from putting your name into a business card holder and adding your favorite superhero logo to a design.
Another fascinating attribute is the customizable support generation. This gives users the power to either auto-generate supports or add them to specific parts of the model. By dragging in a primitve and marking it as a support, the MatterControl software will recognize it as a support structure. That way, you can add supports to internal structures without having to have them throughout the entire model.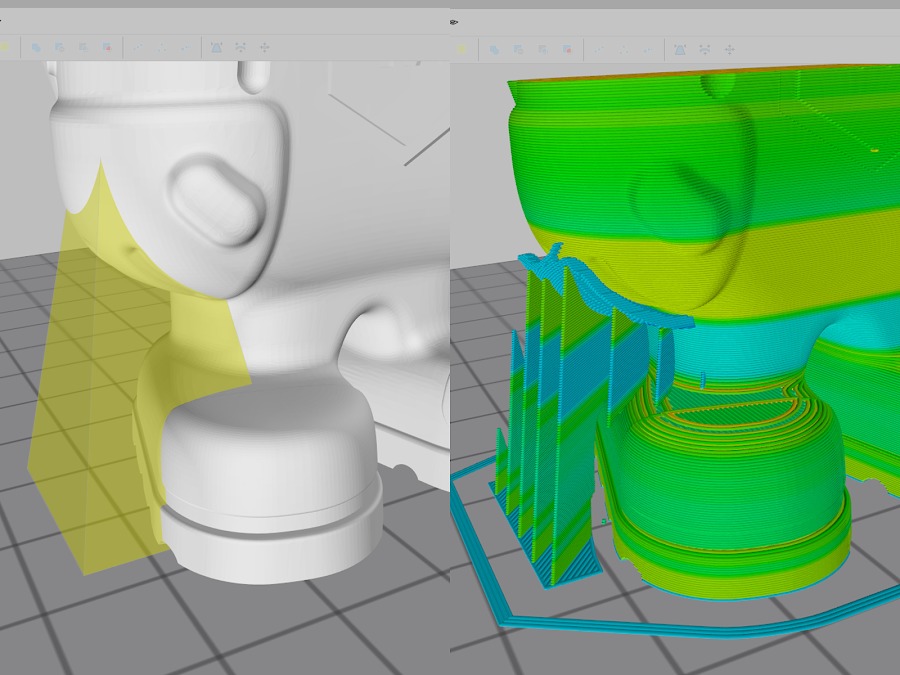 For those that have a dual extrusion 3D printer, MatterControl 2.0 will now make it easy to pick and choose which extruder will print a specific part. Once the model is created or imported, users have the ability to subtract and replace the parts, allign them to their origin, and direct the printer on what extruder to use for certain areas of the design.
When printing directly from MatterControl, the software will keep track of your printing process and allow you to resume a print from where it left off in case of a power outage. And, if you have a printer that doesn't offer automatic bed-leveling, you can utilize the new software bed leveling feature to correct the first layer and ensure that it's completely level with the bed. The platform also includes a Cloud Library for you to upload and access 3D models from anywhere using the online dashboard or through the MatterControl application.
In addition to the useful features integrated into MatterControl 2.0, the MatterHackers team has also made it a point to offer more resources to users, including how-to guides, helpful techniques, and use case articles, all of which can be found on the program's home page. There are also a variety of help wizards to assist users with certain tasks, such as filament changing and bed leveling.
Last but not least, MatterHackers has also made its all-in-one software solution in a 64-bit version, giving users the ability to create larger, more complicated models and slice them faster than ever before.
If you want to try out MatterControl 2.0 for Windows or MacOS, you can download it for free on the MatterHackers webshop.