From innovative stop-animation films to costume design for Black Panther, 3D printing is quickly becoming an essential tool for filmmakers and pre-production purposes. As of recently, the technology has even started to steal the spotlight in some major Hollywood movies.
The average big-budget film typically contains larger-than-life props that must be captivating and oftentimes otherworldly. And so, having a sizable and highly capable 3D printer on the set can help streamline the prop-making process for the constantly busy production team.
One of the latest blockbuster hits to be bolstered by the use of 3D printing is First Man, the renowned Steven Spielberg-produced biographical drama that tells the groundbreaking story of astronaut Neil Armstrong (played by Ryan Gosling) and how he became the first man to walk on the moon.
In order to create a historically accurate scale replica of the famous Apollo 11 capsule, along with other crucial props, the production team turned to the German-based large-format 3D printing gurus at BigRep.
Using the company's flagship BigRep ONE 3D printer and a specific slicing software, the First Man production team was able to produce the entire replica of the capsule in less than six months. They also used the large-format machine to create a scale replica of the Saturn V rocket module, among other props.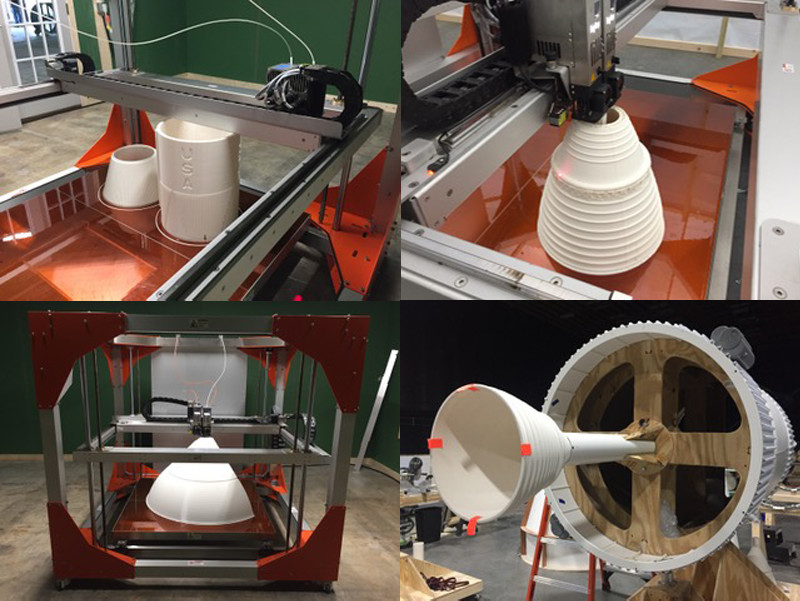 The relationship between BigRep and First Man first began when production designer Nathan Crowley, who has also worked on movies like Dunkirk and Interstellar, came across a BigRep machine at the company's US-based headquarters in New Labs, a multi-disciplinary technology center that is located in the Brooklyn Navy Yard.
After watching an entire piece of 3D printed furniture manifest before his very eyes, Crowley was instantly intrigued by the impressively large FDM 3D printer.
"The first thing I asked them was, 'how many times did that print head jam in the last month?' And they said,  'once.' I was immediately like, I need to get in touch with these people because we were always in a rush and we don't have the time for a 3D printer to jam on us," Crowley told All3DP.  
In the fast-paced and gritty world of Hollywood film production, time is always of the essence. So, for Crowley, finding a 3D printer that had a large build volume and operated efficiently was especially enticing. And so, the First Man production team decided to lease a BigRep ONE 3D printer to create their large-scale replicas and various props.
With a massive 1005 x 1005 x 1005mm build volume and a minimum layer resolution of 100 microns, this large-format 3D printer was ideal for producing a historically accurate replica of the Apollo 11 lunar module. Soon after the first machine was up and running, the crew decided to order another BigRep ONE and add it to the pre-production floor, bringing their total number of 3D printers to two.
"The production team was looking for a large-format solution to 3D print the rockets and lunar modules and other pieces for the movie and they came across BigRep in our New York City office and just fell in love with the capabilities of it. Like any movie, they had a lot of short term needs but don't need to buy it, so they leased the machine for the length of the production," says Frank Marangell, the president of BigRep America Inc. and Executive Vice President (EVP) of Global Sales.
"Shortly after they got the machine and started using it, they found that they were printing many more things than they were expecting and they were running out of capacity and needed more. And so they leased another machine from us."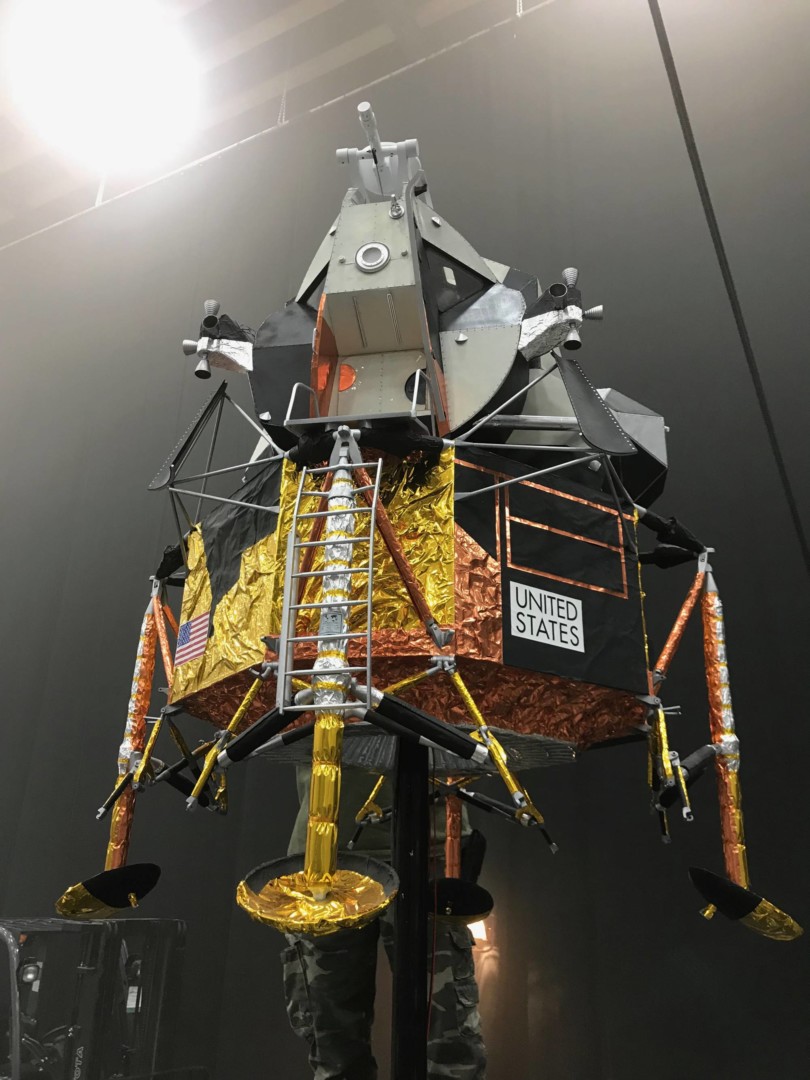 "First Man" Production Team Uses BigRep to Create Apollo 11 Capsule, Saturn 5 Rocket, and More
The BigRep ONE 3D printer was one of the first things to be installed inside of the First Man pre-production workshop, and the crew wasted no time in getting the printer revved up and ready to extrude. The first object they set out to print was a scale replica of the Apollo 11 lunar module.
"We put the BigRep ONE in the construction shop where we build the sets, and then we had to build a room around it to keep it clean and keep the temperature stable. To have a print bed that size, that we can have a lunar module at one-sixth of its true height which is 23 feet. We're talking about at least a decent size model. And really, the BigRep could print it all in one go," Crowley explained.
To help with the installation and training process, BigRep's senior 3D printing specialist Michel David spent a few days with the crew. Although Crowley and the production team have had plenty of hands-on experience with 3D printing in the past, the BigRep ONE was an entirely new beast to tame.
Once they realized the speed and size capabilities of this monumental machine, the First Man crew started to consider other uses of the large-format 3D printer outside of the Apollo 11 capsule and Saturn V rocket modules.
"In the very beginning, they were very excited about the size of the machine and came up with a few objects they would need for the shooting. Most of the time we talked about the Saturn V rockets, they wanted to have it around eight meters tall. They choose the tool that would allow them to make larger objects," David told us. 
Of course, more advanced technologies like CGI are commonly used for blockbuster movies like First Man, but Crowley has always been adamant about creating replicas and miniatures in the physical realm, claiming that they allow for a more realistic and artistic look, especially when they're shooting physical objects with light and smoke.
Other than the two scale replicas, the First Man crew also 3D printed a variety of dashboard components for the interior of the Apollo 11 spacecraft.
"They were very, very excited. They had a dozen of smaller printers, but volume-wise were talking about 100 small printers in one BigRep. It means a lot of assembling and cutting models, then printing them and connecting them together like a puzzle. We were able to help them produce large and complex models into a simple print," David adds.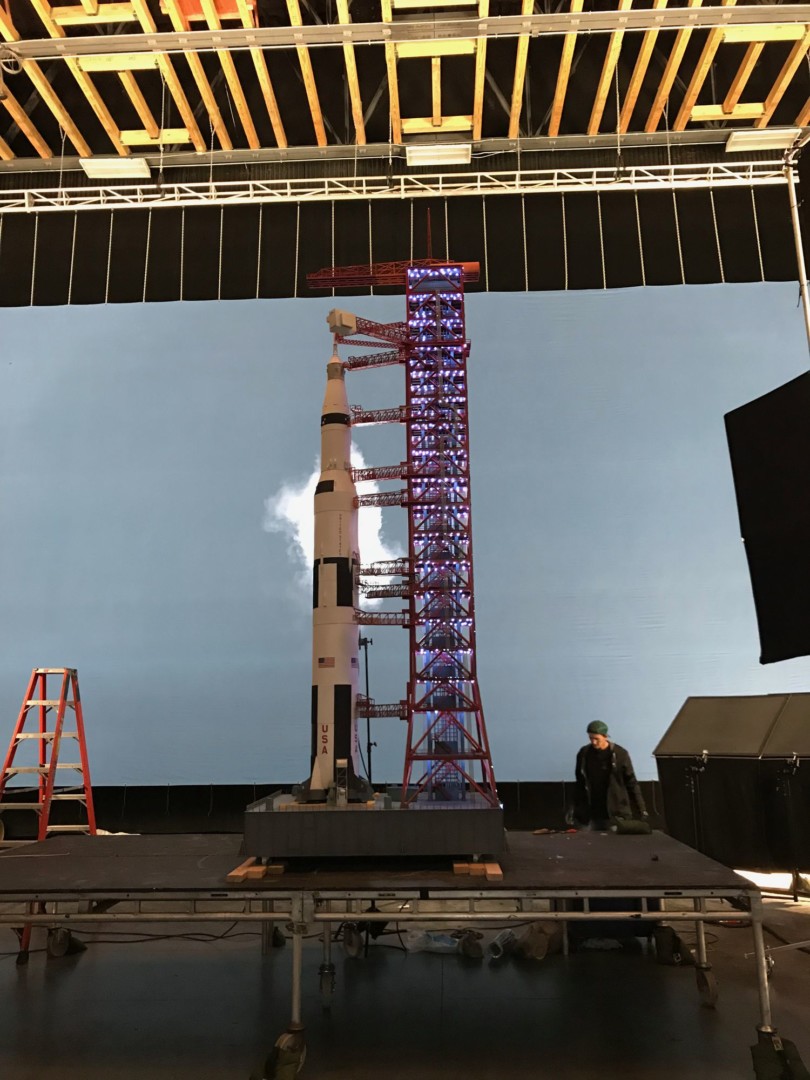 The BigRep Advantage: Why Large-Format 3D Printing Belongs in Hollywood
While Crowley has used 3D printing technology on a number of movie sets in the past, his previous experience was primarily restricted to desktop machines. With two BigRep ONE 3D printers, the First Man production team was able to manufacture sizable scale replicas of the Apollo 11 capsule and Saturn 5 rocket in a single print job.
Previously, the production designer would have had to split the model into parts, print them on a farm of smaller 3D printers, and then assemble them piece by piece.
"Printing that on smaller desktop printers, we would have had to split that into parts, and then threw them all together and then refinished them. We would have to put those puzzle pieces together and that's assuming that one of those printers don't break down and we're not missing a part. So to print it one go, it was a game changer for us," Crowley explained.
Moreover, many desktop 3D printers still require a significant amount of tinkering and time in order to achieve optimal results. And, in a fast-paced and high-stress environment like a movie set, most production crews don't have too much time to spare. In Crowley's personal experience, this required expertise and effort has been one of his biggest gripes with 3D printing technology.
"Needless to say, we didn't really have a stable reliable printer. And that's a big deal. And I mean, to me, that's the main problem with desktop 3D printing. You have to be a total hobbyist. You have to know how to take apart and printer and put it back together to actually use it."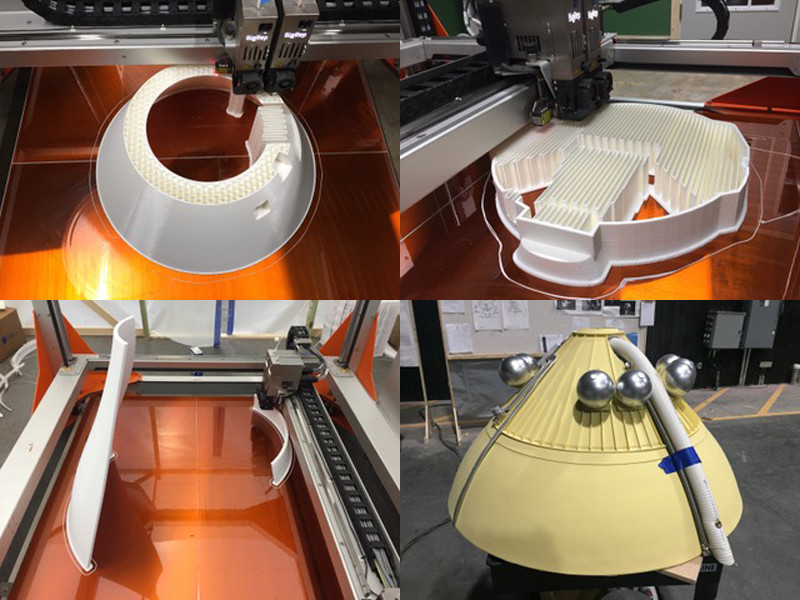 But with the assistance of BigRep, the production designer was able to print sizable replicas and movie props at an incredibly fast rate. Not only did the BigRep ONE 3D printer provide the First Man team with a gargantuan build volume, but it also made the overall prop-making process much less time-consuming.
"We can offer customers multiple large machines, and the pace of creating a set is really quick. And we're talking all about time here. The production team met for maybe six months and designed, produced, and installed the set. Then they just do a few days of filming and everyone goes home. After that, it takes post-processing and editing and within a very short amount of time, they're producing all of this. This is where large-format 3D printing becomes very advantageous," David says. 
As for how the BigRep team feels about having their flagship 3D printer heavily involved in the production of First Man, they certainly see a future for themselves in the world of big screen entertainment. However, instead of being surprised about the new collaboration, David has expressed curiosity over why it has taken Hollywood so long to adopt large-format 3D printing into the pre-production and filmmaking process.
"I look at it from the other way around. On one hand, why did it take so long for Hollywood or for production teams to discover the magic of 3D printing? On the other hand, large-format 3D printing, in particular, has a huge potential. Maybe it's the traditional way that they're working, but I would expect to see way more 3D printing being used in the future," he concludes.