Without an internal combustion engine (ICE), it's possible to design cars which look very different from those which we are used to driving every day. This means electric vehicles (EV) can be smaller and more compact.
Additive manufacturing is helping speed up the design and development process of these electric vehicles. Though many of these vehicles are not yet available at your local car dealership, they're certainly heading that way.
XEV, the Hong Kong-based design firm, is developing small and compact 3D printed electric cars. Its recent project, LSEV, was in collaboration with Polymaker, the Shanghai-based 3D printing company.
Thanks to 3D printing, the LSEV costs just $7,500. Aside from tires, windows, chassis, and seats, the entire car was built using a 3D printer. Costs are reduced due to there being no need for inventory, tooling, or assembly lines. The technology also ensures the car is lightweight.
It may be some time before 3D printed electric cars become the norm though. Despite the perks, one huge disadvantage of 3D printing is that it isn't the best option for mass-manufacturing a product.
A company providing 3D printed parts for the automotive industry is the Indian 3D printer manufacturer, Divide by Zero Technologies. It claims the technology reduces manufacturing costs, while speeding up the design and manufacturing process.
Company CEO and founder Swapnil Sansare explains how 3D printing can help in the development of electric vehicles (EV):
"We will need different body structure for EV as compared to ICE vehicles because EV vehicles are simple in powertrain, and has less weight, number of body parts, vibration & noise than ICE," he said. "With reference to this 3D printing will play a major role in new product development and manufacturing of EV in upcoming days."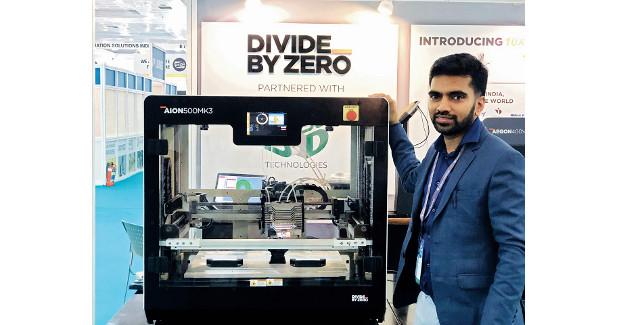 Speeding Up Electric Vehicle Design with 3D Printing
Additive manufacturing will see digital libraries replace modern-day inventory, believes Sansare. The libraries will catalog all the possible parts that can be 3D printed as they're needed. He adds that parts will be simplified and the overall weight of electric vehicles will also be reduced. As a result, we can expect lower production costs and even shorter assembly processes.
Right now, the automotive industry is the biggest consumer of 3D printing. They use it predominantly for prototyping. However, another project which has resulted in a 3D printed car is the Nanyang Venture 8.
The car was developed by students from Nanyang Technological University. Its body is made from 3D printed ABS parts in a honeycomb structure to increase strength.
This car is not on sale but, if it were, 3D printed parts would mean a buyer could truly customize their ride by tailoring every aspect of the vehicle's aesthetic.
Source: Automotive Products Finder
Feature image source: Reuters