As the war on plastic rages on, Bernie Craven was inspired by his job as a hairdresser to turn used plastic shampoo bottles into something extremely useful. With a 3D printer, Craven is creating affordable prosthetic limbs for children.
"As a hairdresser for over 40 years, I knew how much waste was coming through the salons, and there is a point in time when you've got to be responsible for what you are producing… There are people around the world 3D printing with normal filament, but I don't see anyone actually using recyclables to do it," says Craven.
"We're solving one problem and helping out with another one because I'm finding out there are a lot of people who need prosthetics but can't afford them."
Craven has been working on this concept, called Waste Free Systems, for two years, investigating how to recycle plastic and turn trash into treasure.
The first to benefit from Craven's stroke of genius were twelve-year-old Haley Wright and eleven-year-old Connor Wyvill from Australia, both of whom were born without their left hand.
Haley explains that, with her 3D printed prosthetic limb, she is able to complete a whole range of tasks more easily, such as: "Skipping, tying up my hair, those sorts of things."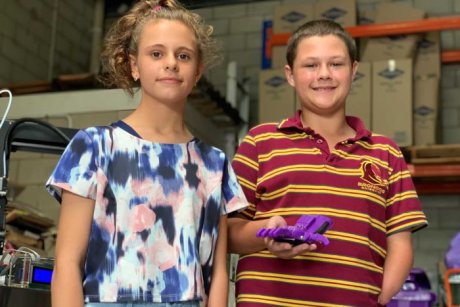 Providing Opportunities for Children to Have Prosthetic Limbs
To produce the prosthetics, Craven works with 38 salons in Queensland, Australia.
"We pick up the plastic bottles, and other types of plastic, bring it back to our warehouse, sort it and then we actually shred it," explains Craven. "We put it through the extruder and turn it into 3D filament, and then we print prosthetics with it."
It took nine hours to print the first prototype prosthetic and 42 meters of plastic. Craven adds that although still in the testing phase, he believes it will take around 15 to 20 bottles to produce a prosthetic hand. Finally, to put the prosthetics together, hand kits made by e-NABLE were donated.
Haley and Connor are trialing the prosthetics. If everything goes well, the recycled 3D printed prosthetics will become commercially available.
Haley's mother, Amanda Quinn, explains that her daughter had never had the chance to have a prosthetic before. She heard about Craven's project through social media.
Quinn explains: "I thought about Haley straight away. I'm hoping that she can deal with it emotionally, to learn to adapt to having that hand she's never had. There's an opportunity, just to give her something she's spoken about all her life."
Quinn believes that the prosthetic will bring Haley confidence in her teen years. Meanwhile, Connor is looking forward to starting high-school with his prosthetic hand, adding: "It'll be a big move, going to a new school, but also going with two arms … it'll be good to be able to do stuff I can't do at the moment."
Source: ABC News