Freshly squeezed orange juice is a delicious treat. But what happens to the fruit peel? It usually gets thrown away to rot. But Italian studio Carlo Ratti Associati came up with a creative idea involving 3D printing to make something useful out of it.
Feel the Peel is an orange juice bar which turns used fruit peel into 3D printed bioplastic cups which you can then drink orange juice from. It was developed with Eni, the energy company.
The prototype machine is 3.1 meters tall and has a circular dome which holds 1,500 oranges. When you order an orange juice, an orange slides down, is cut in half, and juiced.
The peel is then dropped into a container at the bottom of the machine and the leftover rinds are dried and milled to make "dust". This is then mixed with PLA pellets to create a material ready for 3D printing into a cup.
"The principle of circularity is a must for today's objects," explains Carlo Ratti. "Working with Eni, we tried to show circularity in a very tangible way, by developing a machine that helps us to understand how oranges can be used well beyond their juice."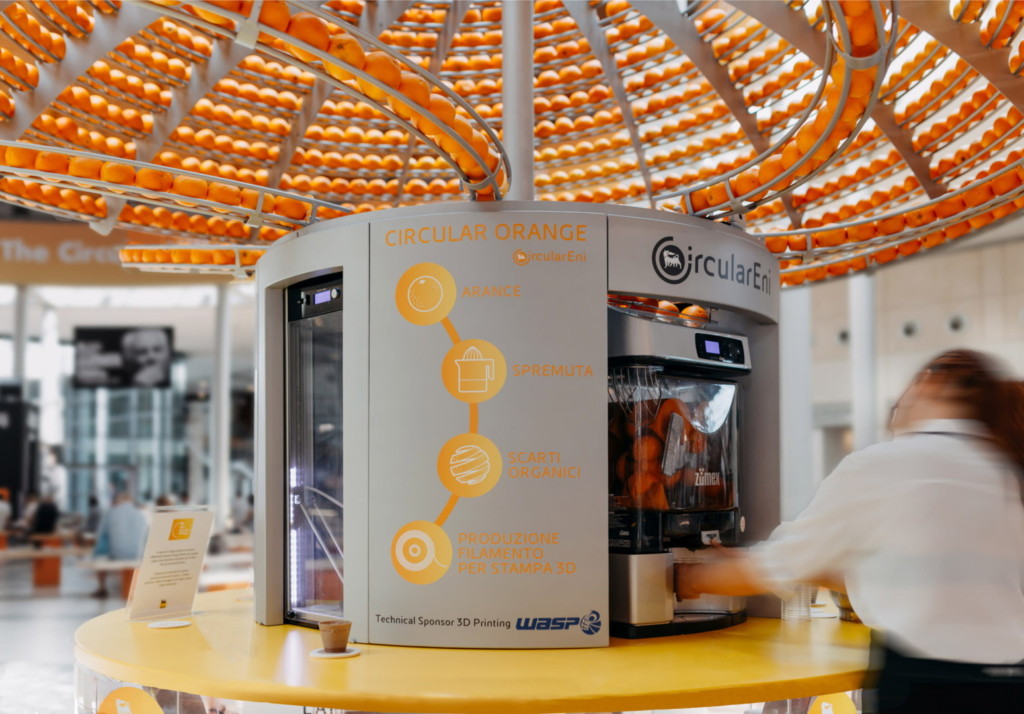 Drink an Orange Juice From an Orange Peel Cup
In order to create the orange peel cups, the bioplastic is heated and melted to form 3D printing filament. The 3D printer – presumably provided by Wasp, whose logo is emblazoned on the side of the unit – resides in the middle of the juice bar. Visitors can watch as their cup is created and then filled with juice.
After the drink is finished, the cup can be recycled. It could potentially be broken down and re-made into another cup to keep the circular economy going.
Ratti explains that in future iterations of the machine, we will see functions including the printing of fabric for clothing from an orange peel.
Yet, the editorial staff All3DP has reservations: As it will take at least half an hour to 3D print a cup, you can't serve a thirsty crowd. Second, the FFF technology isn't considered food-safe… and finally, PLA recycling isn't as trivial as recycling i.e. paper cups. Yet, we liked the idea.
If you're in Milan, you can visit the Circular Juice Bar between the 8th and 9th of October at the Singularity University Summit. The machine will then tour Italy over the following months.
Source: Dezeen