We've previously compared Cura, the 3D printing model slicing software, to a swiss army knife – it's one of the tools you need if you're into 3D printing. Thankfully, it's the free, open-source, easy-to-use for beginners and professionals alike.
Now, the latest version of Ultimaker Cura 3.5 offers stability enhancements for better performance and a new monitor page for improved consistency with Cura Connect, Ulimaker's 3D printer management solution.
There are many other new major improvements as well as a few minor ones for this update. You can download the Cura 3.5 version here. Let's take a look at some of the changes.
Major Improvements of Ultimaker Cura 3.5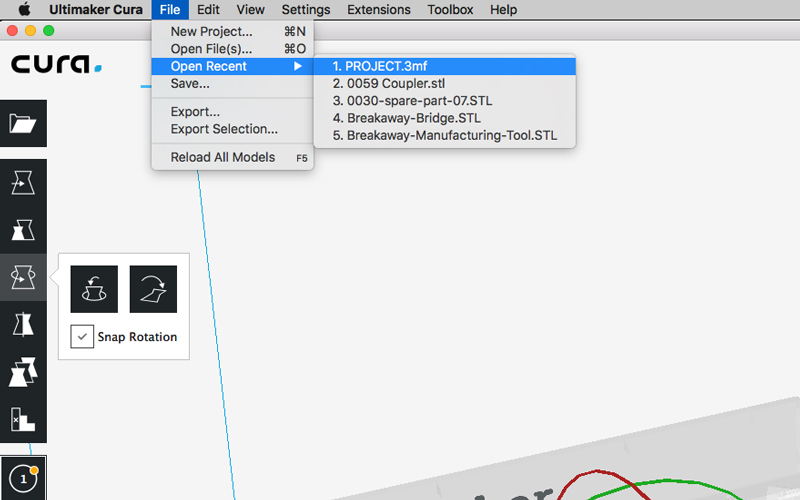 Hotkeys: It's now possible to toggle your way through the model manipulation tools. This provides a better overall user experience.
Monitor page: The monitor page is much improved – think less switching between interfaces and more consistency with Cura Connect.
3MF project files: For better compatibility with other 3D software, all Ultimaker Cura projects will save in 3MF format (read more here). There is no more ".curaproject" extension.
File menu: The behavior of this has changed. You can save with the save button or export projects to save as another file type.
Open recent projects: Further ease of use means you can find project files in the Open Recent menu.
Materials preferences: Set materials as your favorites to make them easily accessible via the material selection panel.
Monitor page: The monitor page of Ultimaker Cura has been remodeled for better consistency with the Cura Connect 'Print jobs' interface. This means less switching between interfaces and more control from within Ultimaker Cura.
Save project: This will no longer trigger a reslice of a project. Hurrah.
Significant Enhancements Made to Slicing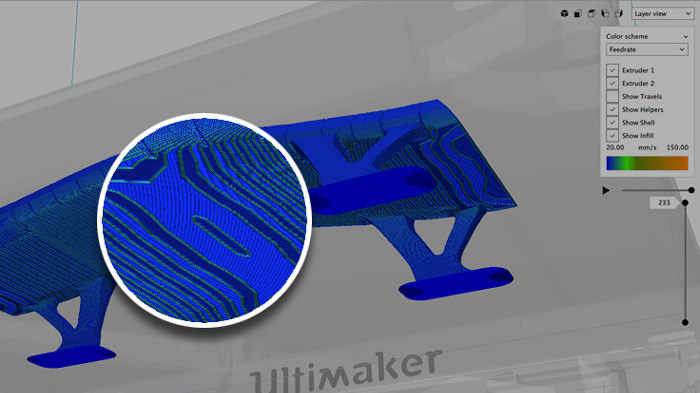 Overhang wall processing improvements: Now automatically, overhang walls are detected and printed at varying speeds for higher-quality and reliable results. Perimeters won't start on an overhanging wall.
Minimum polygon circumference: Filters out polygons in sliced layers that have a circumference smaller than the setting value. Ideal for SLA printers and small-scale prints with lots of detail.
Initial layer support line distance: You can reduce or increase the density of the support initial layer. This means being able to reduce or increase adhesion to the build plate and overall strength.
Extra infill wall line count: Extra walls added around infill area to reduce sagging by supporting skin lines.
Prime tower reliability: Prime tower more reliable thanks to creating a purge bin for one material by using a shell.
Multiply infill: To create stiffer infill, you can now have multiple lines on the same pattern.
Connected infill polygons: Similar to above, now connect cross and cross 3D infill polygons of a layer together.
Minor Changes: New Plugins, Third Party Printers, Bug Fixes
Cura settings guide: Searchable index of Cura settings which are detailed and with images.
New profiles added for TiZYX, Winbo, Tevo Tornado, Creality CR-10S, and Wanhao Duplicator. Profiles updated for Deltacomb and Dacoma.
Bug fixes. These include removal of excess M109 commands in GCODE and unnecessary travel movements and improving extra skin wall count and the order of printed models.
Download Cura 3.5 from the Ultimaker Website
Ultimaker adds at the end of this release: "We'd like to thank our contributors: smartavionics, fieldOfView, BagelOrb, Kriechi, MarmaladeForMeat, and cubiq. We'd also like to extend a special thanks to all our beta testers who have helped us to achieve the best possible user experience for this release."
You can download Ultimaker Cura 3.5 for free from the company's website and find out what is new for yourself. The company asks that you leave feedback so that future improvements can be made. Happy slicing.
Source: Ultimaker Blog