Stratasys, the Israeli 3D printer manufacturer, announced that Bombardier Transportation, the mobility solution provider, will be employing the Stratasys F900 3D printer to produce final end-use rail parts for use in Germany, Austria, and Switzerland.
André Bialoscek, Head of Vehicle Physical Integration Hennigsdorf, Bombardier, said: "The Stratasys F900 3D Printer allows us to widen our service offering in such a way that we are now able to 3D print large spare parts, customized rail parts and manufacturing tools – all in-house and on-demand."
Bombardier Transportation plans to install the Stratasys F900 3D Printer at its largest manufacturing site in Hennigsdorf, Germany. The hope is that the printer will increase flexibility for producing parts quickly while reducing inventory costs.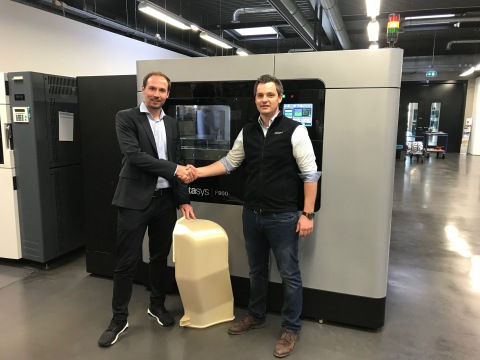 3D Printing Interior and Exterior Train Parts
A Stratasys press release explains that the mobility solution provider will use the printer to create train parts for both interior and exterior. For example, housings, cable holders, and air ducts.
As well as producing end-use rail parts, Bombardier Transportation will use the 3D printer to create manufacturing tools and prototypes for both trams and trains. It hopes this process will speed up the production process and result in the faster launch of new parts.
Bombardier Transportation has previously used materials such as tin and fiber glass to produce parts. However, it will now 3D print parts using ULTEM 9085 resin which offers a high strength-to-weight ration and flame-smoke-toxicity rating making it compliant with the European railway standards.
Andreas Langfeld, President EMEA Stratasys, comments: "Bombardier Transportation's investment in our F900 3D Printer is synonymous with the huge interest we're seeing in the mobility sector for industrial-grade 3D printing solutions that can enhance, and in many cases replace, traditional manufacturing across a variety of interior and exterior rail applications."
Langfeld adds that Stratasys is able to provide rail companies with a high level of print reliability, but also with rail-certified materials and huge build trays resulting in bigger rail prints.
Source: Press Release