When it comes to creating headphones that have a custom look and perfect fit, 3D printing has become music to the ears of audiophiles. A growing number of audio companies, such as Brainwavs and V-Moda, are utilizing this technology to give music lovers a high-performance and fully personalized listening experience. We've also found that 3D printing is being used to create devices that protect users from hearing loss, and one UK-based student has taken this concept to the next decibel.
Elen Parry is a Master's student studying Industrial Digitalization, specializing in product design at Manchester Metropolitan University. She has developed 3D printed audio headphones that also act as advanced hearing devices that "enhance human ability" while breaking down social barriers.
Her idea, called HeX Earbuds, is an audio headphone device that aims to prevent further hearing loss for those who need hearing aids while also enhancing their hearing. However, HeX Earbuds can be used by everyone, not only those dealing with hearing loss.
"My mission is to encourage social inclusion through my designs, to create improved situations for everyone. The driving principle behind creating HeX earbuds was to create a hearing device that is for everyone – whether you live with hearing loss or perfect hearing," Parry explains.
HeX Earbuds are designed to give the user more control over their hearing experience. The device is equipped with an advanced chip that is able to differentiate between the sound you want to hear and background noise, putting the wearer in full charge of the volume of the surrounding environment.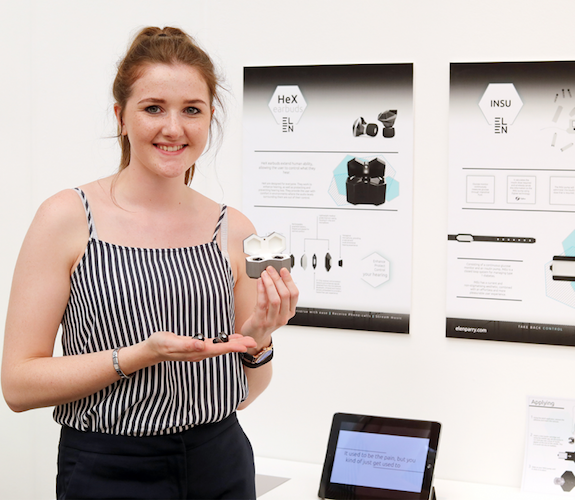 3D Printed HeX Earbuds Puts Sound in Your Hands
Many people who would benefit from hearing aids choose not to wear them for a number of reasons, such as discomfort, the out of place appearance, and the social stigma behind them. Parry hopes her design will help innovate the look of hearing devices, giving people an option that they feel comfortable wearing.
The HeX Earbuds have a sleek hexagonal design that evokes a natural multi-directional hearing experience while also offering a fashionable look. Furthermore, 3D printing makes it easy to customize silicone buds so that they comfortably fit any ear shape or size.
"People with disabilities often feel excluded and conspicuous because of their medical devices, so I want to transform hearing aids into a desirable wearable tech product that gives people enhanced hearing, style and confidence – something that anyone might want to wear," Parry said.
To remove the social barriers surrounding hearing adds, Parry has added some useful features to her earbuds, such as the ability to stream music and receive phone calls. She used infrared, embedded Bluetooth, and motion technology to integrate these elements into the product design. As a result, users who don't require hearing aids will also be able to enjoy these 3D printed earbuds.
In addition to being a postgraduate student at Manchester Metropolitan University, Parry is also an International Autodesk Student Ambassador for the UK. As you might expect, the concept has already captured the attention of many and was the top pick for the Design Council's 'New Designers 2018' event.
At the moment, the earbuds aren't yet ready for mass market. However, Parry has already developed a prototype, so there's a chance that you might see a pair of HeX Earbuds in some ears in the near future.

Source: Design Products and Applications