Earlier this week, a federal judge from Seattle decided to extend a court order preventing 3D printable firearm models from being shared by a Texas-based organization called Defense Distributed.
But Cody Wilson and his pro-gun organization are already attempting to circumvent the ruling by selling flash drives containing the 3D gun blueprints. His company, called Defense Distributed, is delivering files to paying customers in the United States.
While the firm has listed a suggested price of $10 for the CAD files, they've opted to allow interested parties to pay however much they want. Wilson claims that other users can submit their own designs to sell on the Defense Distributed website, and will receive 50 percent of the sales proceeds. He also stated that the company has already received over 400 orders for the collection of 3D gun blueprints.
"I'm happy to become the iTunes of 3D guns if I can't be Napster," Wilson reportedly said during a press conference.
Defense Distributed also seems to be teasing those who live in states that have implemented a ban on 3D printable gun designs. When visiting the firm's website from one of these states, you receive the following message: "Your masters say you can't be trusted with this information. Sorry, little lamb."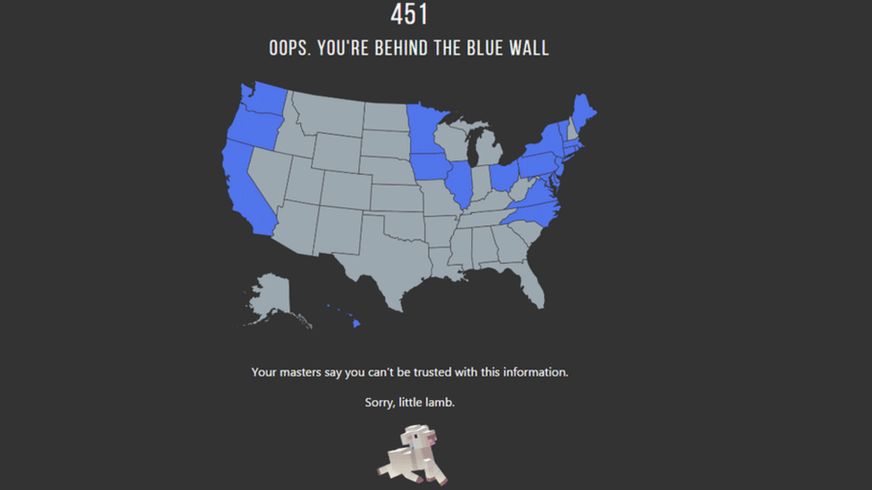 Defense Distributed Takes Another Shot at Sharing 3D Printed Gun Blueprints
Although the first 3D printable gun files appeared online back in 2013, the controversial issues came to a head recently after the Trump Administration reached a court settlement with Defense Distributed to allow the models to be published online.
This alarming decision was soon temporarily thwarted due to lawsuits from 19 different states, all of which called for the ban to be reinstated. Soon after, a federal judge issued a temporary restraining order to keep the DIY firearms offline, forcing Defense Distributed to take the models off of their website. This order was just extended by US District Judge Robert Lasnik via a preliminary injunction.
But Wilson believes that the court order only pertains to the sharing of files for free, giving Defense Distributed the belief that there's nothing to stop them from selling the models.  
Wilson has long argued that blocking him from posting the blueprints online is an infringement on his First Amendment rights. As a result, the Texas-based arms activist has become the focal point of the 3D printed gun debacle.
Back in 2013, he released the design for his fully 3D printed plastic gun called the Liberator. Since then, Wison has continued to push for the right to share DIY firearms online, and may have just found a loophole that will allow him to do so.
If you want to learn more about the history of 3D printed guns, Defense Distributed, and how different laws are aiming to quash this movement, check out our 2018 3D Printed Gun Report.