Are you and your partner struggling with emotional communication? Lancaster University and Dovetailed, the deep tech UX agency, are collaborating on a study to figure out whether the answer lies in 3D printed food.
Working on the study is Tom Gayler, PhD student at Lancaster University, Corina Sas of Lancaster University, and Vaiva Kalnikaite, the founder and CEO of Dovetailed.
The team hopes to uncover how 3D printed food can be used to create more effective sensory and emotional interactions between people and computers and to see how couples can use 3D printed food to support their own emotional communication.
"We were interested in exploring how 3D printed food might allow us to connect these forms of experience with novel technology," explains Gayler to All3DP. "By doing this we can create new and more interesting ways to use technology, helping build support emotional communication and awareness through this system."
Previously, the researchers worked on using 3D printed food in communicating and expressing emotions when humans interact with computers. The new study, Designing 3D Printed Food for Romantic Relationships, builds on this work.
Said Gayler: "Previously we have shown that changing the taste of 3D printed food can communicate different emotions, for example tasting something sweet to represent the outcome of a sports match was understood as a victory for your team, and something bitter was understood as a loss for your team."
Now, the researchers are exploring how their work can be used in a "real-world context."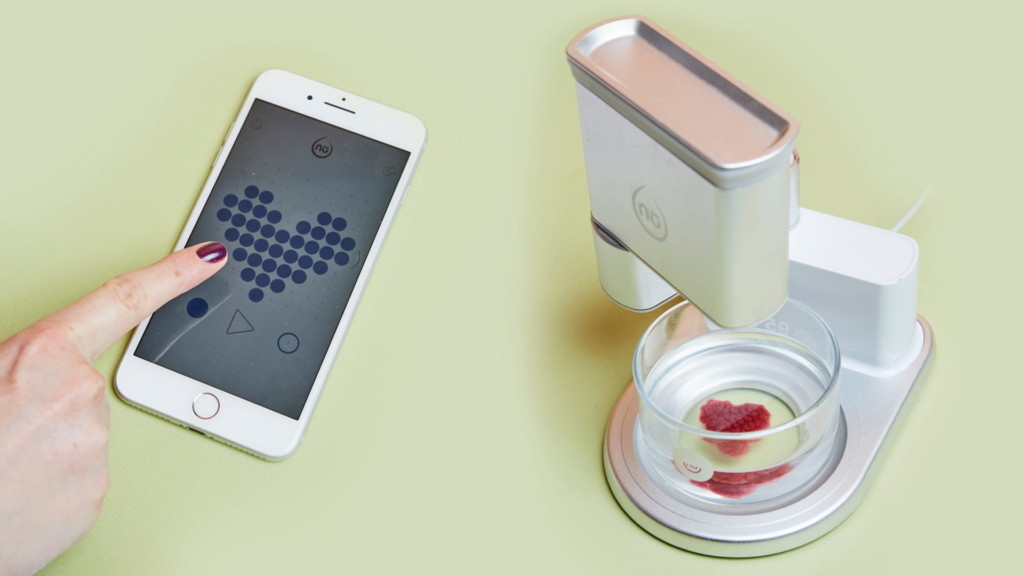 What Does the Study Involve?
Gayler explains that food is already a key part of social structures. How many restaurant first dates have you been on, for example? Or, how many boxes of chocolate have you received on Valentine's Day (or when your partner feels guilty)?
"Taste has long been connected to emotions, the most common connections are between bitter tastes and negative emotions and sweet tastes and positive emotions," he explains.
The study follows a co-design methodology. Couples who take part in the study will work with researchers and designers to "undertake several tasks" and design personalized flavors of 3D printed food.
Previous 3D printed flavors developed by the team include "a roast dinner, black Russian cocktail, wasabi, and the original, world's first 3D printed raspberry."
The flavors will be 3D printed via nūfood, a liquid 3D food printer developed by Dovetailed. Next, the partners will taste test the foods.
Finally, the couples will be able to use the foods over a period of time to spark a range of emotional responses, for example, to cheer each other up.
Intrigued? If you're based in London or Cambridge, are in a romantic relationship, don't have any food allergies and want to take part, you can sign-up for the study. The work is funded by EPSRC and Dovetailed.
For more on 3D printing and food, check out these stories: