Excruciatingly boring lectures can feel like a life sentence. If only it was possible to listen to something else during those periods without being caught…
Samuel, a student in France, has come up with the perfect way to covertly listen to music during lectures. In a project recently posted on Hackaday, Samuel outlines how he developed 3D printed bone-conduction headphones built into glasses.
He explains his inspiration for this project, saying: "First I was looking at the awesome kinds of existing bone conduction glasses and was thinking why don't I make one so I bought a bone conduction module got an old wireless earphones from a friend, did some CAD based around my old pair of glasses."
Bone conduction is a way of hearing sound through the vibration of bones on your face rather than your eardrum. Instead, of listening to sound travel into your ear, the vibrations travel directly to your inner ear.
Samuel began by researching current bone-conduction glasses before deciding to try using Adafruit's Bone Conductor Transducer to create his own. But, he explains that although this worked well, the product was too big to fit into slim glasses. Instead, he used AliExpress to buy a GD-02 which was much smaller.
He also sourced a Bluetooth module, a PCB and a battery from a friend's broken Bluetooth headphones. With the electronics ready to go, the next step was printing a pair of glasses.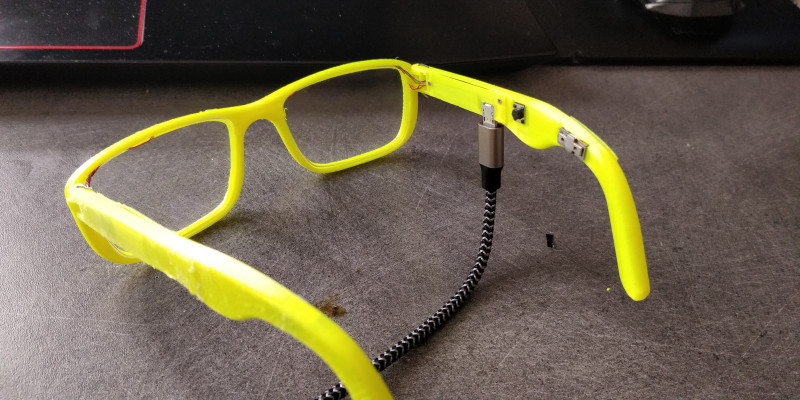 Cool Project But Why Yellow?
Samuel created a design using CAD to ensure all of the necessary parts for his bone-conducting glasses would fit inside. He based his design around an old pair of his own glasses. After a few 3D printing trials, he got a print he was happy with.
He concealed the battery in one arm of the glasses and the board in the other. However, he adds that the wiring was very time-consuming and tricky. Luckily, he has a few tricks to make things easier – you can follow his process on his Hackaday project page.
The resulting glasses look great. Apparently, the sound quality isn't very loud and lacks bass, but this is arguably useful for keeping sound leakage at a minimum. Although, when trying to be as covert as possible, perhaps yellow isn't the best choice?
Source: Hackaday