Meet "Ardu McDuino", an Arduino-powered, 3D printed bagpipe chanter robot. We've seen our share of great 3D printed instruments… but this one's just unbelievable.
Maker and designer XenonJohn is highly interested in self-balancing machines. Over the years, he built quite an impressive machine park. You can see some of his great work published on Instructables (we love the Kindle page turner, btw.) As his last project, he recently published a new bagpipe-playing robot with 3D printed parts.
Musically speaking, his bagpipe playing robot is a "chanter". "A chanter is a low-cost device allowing you to learn to play the bagpipes," he states on Instructables. "It resembles the important part of bagpipes, i.e. the part that plays the main tune with a reed and finger holes, you just blow down it for now until I can make a suitable air pump."
So if you're not familiar with bagpipe mechanics, let's break it down to this: A chanter makes playing the bagpipe a lot easier.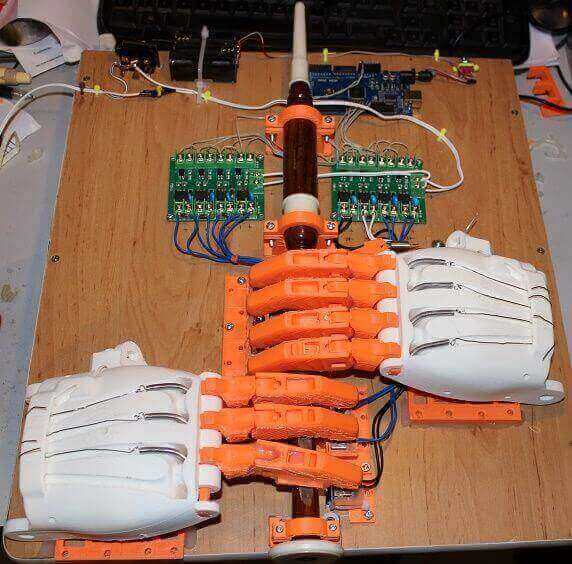 An Arduino Mega Powers The 3D Printed Bagpipe Chanter
So, what do you need for this robot to play thing? First of all, you'll need the "hands". They have moving fingers which play the notes. XenonJohn used the open-source design of 3D printed prosthetic hand called Rapto Reloaded from the Enable project.
The finger tips are lifted off the holes of a bagpipe chanter with 12V DC solenoids. Only 8 "fingers" are used to play the tunes.
The brain of the bagpipe player is an Arduino Mega 2560. Like in a real brain, it gives electrical impulses (nerves) to some motors (muscles), which move the 3D printed fingers. The air flow (lungs) comes from a small compressor, which pumps it into a pipe.
The encoding of the music was done by Xenonjohn's custom system. He plans to eventually update it to a more common file format which is used around the world to play bagpipe tunes on mechanical systems.
The project is probably not suited for a 3D printing beginner, but all other makers really should take a look.
License: The text of "3D Printed Robot "Ardu McDuino" Plays The Bagpipe Chanter" by All3DP is licensed under a Creative Commons Attribution 4.0 International License.
Subscribe to updates from All3DP
You are subscribed to updates from All3DP
Subscribe
You can't subscribe to updates from All3DP. Learn more…