Neither a big industrial machine nor the newest home 3D printer was the star at TCT show in Birmingham. It was a fully 3D printed pinball machine.
There's a common social game on trade shows. If you want to fill an awkward pause, you ask them: "So, did you see something exciting yet?" At TCT Show in Birmingham (a show anyone interested in 3D printing should visit), there was just one answer: "Yes, did you see that 3D printed pinball machine? It's crazy."
We have to second that – this machine was nothing less than a piece of art. But why is this handmade piece so great? Because it was lovingly crafted, 3D printed and assembled into a machine that even played astonishingly well.
The 3D Printed Pinball Machine: Even the Rubber Bumpers were 3D printed
You could play the 3D printed pinball machine at the 3D Filaprint booth – you inserted a (3D printed) coin, pulled the (3D printed) plunger and off you went. Everything performed like on a real classic pinball machine.
The yet nameless model was conceived, printed and assembled by Tony T., a retired software engineer who "started work as an apprentice electronic engineer working on hardware and then moved on to software as computers and microprocessors became available, working mainly on avionic electronic equipment."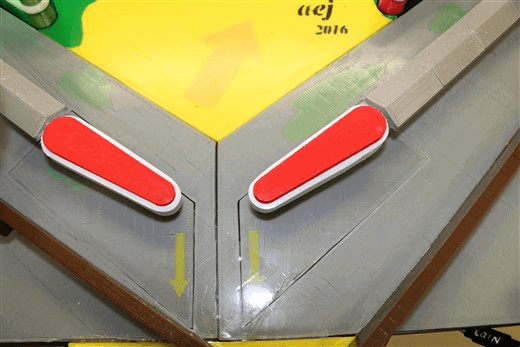 Tony chose to do a Southend-on-Sea themed pinball machine (that's where 3D FilaPrint and Tony are located). He decided that the machine should be full size and fully 3D printed. All in all, he did design 170 different parts with a total part count of 520.
The machine follows a fairly traditional 1960' /1970's layout including the traditional score drum wheels but with the addition of a ramp, ornaments, and sound. Tony also came up with a lot of lovely details – like a bowling alley, a Southend-Pier inspired ramp, some seagulls – and even a ghost that jumps out of a box of you hit the right targets.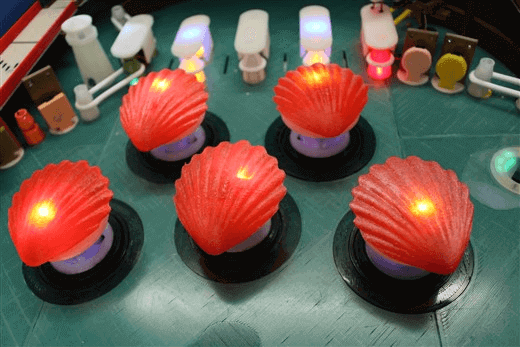 A ridiculous amount of time, dedication, and attention to detail was spent on this machine. All in all, it took a year to complete, with 200 hours designing, 1.200 hours printing time, 8.5 km of filament and 100 m wiring.
Tools used to create the 3D printed Pinball Machine
Pretty much everything you see on this 3D printed pinball machine is manufactured and 3D printed. The play field, the plunger, flippers, bumpers, targets, kickers, ramps and even the mechanical digits keeping track of your score – all these parts are made from different 3D printing filaments. Even the wooden legs were covered in blue PLA. Tony used an assortment of 85 filaments – too many to mention, but here are some noteworthy ones:
26 variations of Reprappers PLA, including translucent, glow in the dark and nylon types.
Protopasta's conductive filament, magnetic iron, steel and… coffee!
Ten different colored NinjaTek flexible materials for bumpers and rubberlike parts
Copper and bronze filament from Formfutura and brassFill from Colorfabb.
The parts of the 3D printed pinball machine were made on a homemade printer with a wide printing bed (400 x 300mm). All parts were printed on glass. Most were printed face down, to produce a flat, smooth surface, especially for the playing table.
The designs were made with OpenSCAD, sliced with Cura, Slicr, and Simplify3D. When it came to electrical hardware, Tony relied on 2 Arduinos, solenoids, and some sensors. There are 100 meters of cables running through the 3D printed pinball machine – the complete parts list is quite exhaustive.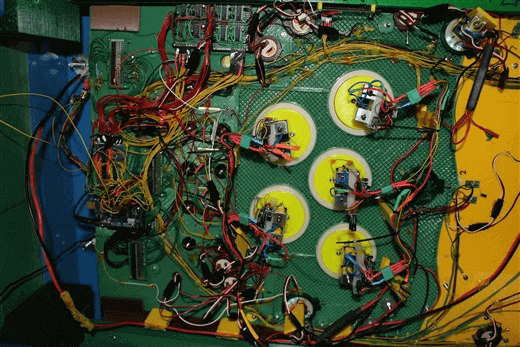 If you want to dig deeper into the making of Tonys 3D printed pinball machine, check this link.
License: The text of "This 3D Printed Pinball Machine is a Piece of Art" by All3DP is licensed under a Creative Commons Attribution 4.0 International License.
Subscribe to updates from All3DP
You are subscribed to updates from All3DP
Subscribe
You can't subscribe to updates from All3DP. Learn more…