PEZ collectors of the world rejoice! Getting your hands on rare dispensers is easier than ever thanks to SugaCube, a 3d selfie studio founded by Iwan Sugata and Harry Liong. The dynamic duo uses 3D printing and scanning technology to give PEZ collectors what they want: custom dispensers!
Considering diehard fans of the company pay as much as $32,000 for rare PEZ dispensers, is it any wonder why SugaCube cornered their piece of the candy market with their unique product? There's money to be had from PEZ collectors.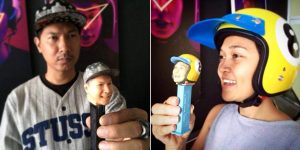 Sugata and Liong know this firsthand. They were approached by two fans, a husband and wife from Indonesia, who wanted their own heads as the characters for their custom PEZ dispensers. More importantly, they needed the items fast because the couple planned on attending a PEZ community event in Japan shortly after making their request.
SugaCube first used an Artec EVA 3D scanner to create the dispensers. It gave the couple unnatural facial expressions. So they decided to use photogrammetry, the technology the company first used to get into the business. They rigged a camera in their Jakarta studio and worked on capturing the facial expressions of Gita and Onik, the PEZ super fans.
A 3D Systems ProJet 660 printed out the heads for the clients to look over. They were thrilled with the results. The cost of dispensers averaged about 1,500,000 Indonesian Rupees which equates to about $120 USD.
Attending the PEZ convention with their unique PEZ dispensers in hand, Gita and Onik turned some heads. Telling others about their experience with SugaCube creates a demand for similar 3D printed objects. It'll only be a matter of time before more PEZ collectors come to the company with their requests. Sugata and Liong look forward to that day and 3D printing even more dispensers that people show off, use, and enjoy.
If you want to take a look at another version of the PEZ dispenser topic, here's the video of Maker Daniel Malik creating his personalized PEZ head:
License: The text of "3D printed Pez dispensers are the newest craze" by All3DP is licensed under a Creative Commons Attribution 4.0 International License.
Subscribe to updates from All3DP
You are subscribed to updates from All3DP
Subscribe
You can't subscribe to updates from All3DP. Learn more…