If you are looking for something special, personal and outstanding then 3D printed jewelry is perfect for you. Here are 20 great pieces of 3D printed jewelry and their sources.
3D printed jewelry isn't hard to find – a quick Google search will show you 3D printing is becoming more and more popular with jewelers. For these designers, 3D printing offers a new toolset of opportunities to work with. When 3D printing jewelry, you can do complicated yet delicate meshes, use new materials and make some bold new statements you just can't achieve with traditional methods. You can use it for rings, bracelets, pendants and earrings.
In this list, you can find just some examples of how beautiful 3D printed jewelry has become! Some of the designs can even be printed at home or be sent to a professional 3D printing service.
1. Dove's Nest Penchant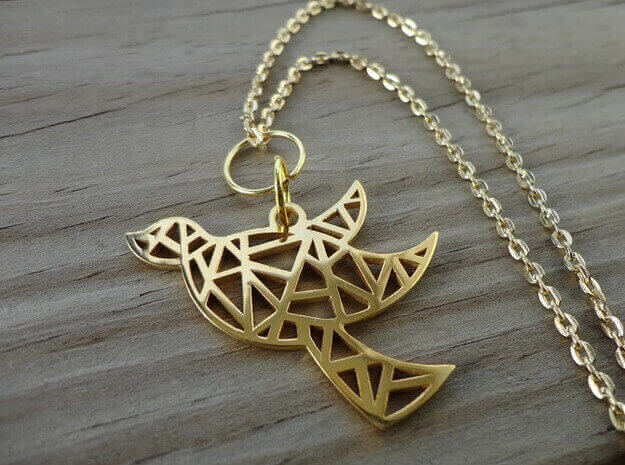 When it comes to high-quality 3D prints, Shapeways is one of the most popular websites, Si it's no surprise they also host a high-class section of 3D printed jewelry. Theis his cute little penchant is one of the most popular options on their site. You can get it in a lot of different materials with prices ranging from $7 (plastic) to $1200 (Platinum).
Check it out at Shapeways.
2. Antelope Ring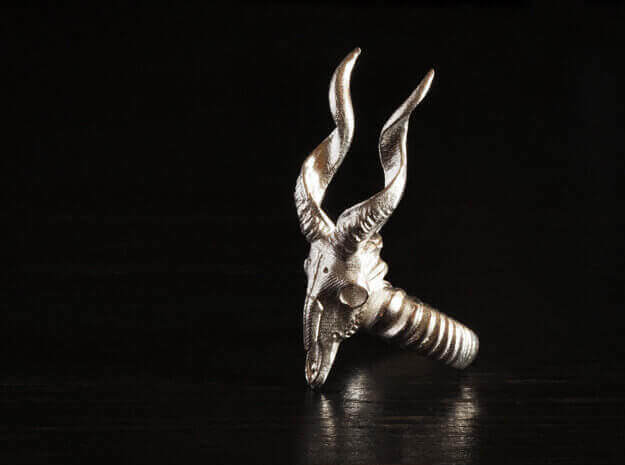 If you've been looking for something a little bit different, then perhaps this antelope ring is right for you. But keep in mind the price tag of $147.11 – it's currently only available in silver.
If that doesn't bother you then find the design on Shapeways.
3. New York Cityscape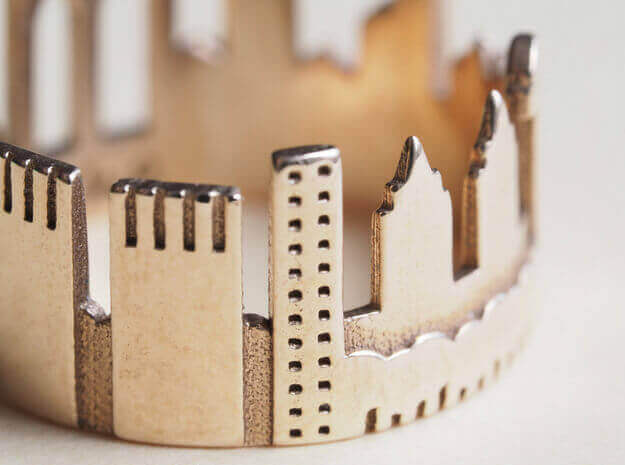 Another great 3D printed jewelry piece from Shapeways is this beautifully creative idea by shekhtwoman. As well as New York, there are many other cityscape choices too, ranging from Berlin to San Francisco. Currenty, shekhtwoman offers 25 beautiful jewel designs, which are worth a visit.
You can find the design at Shapeways.
4. Silver Orchid Necklace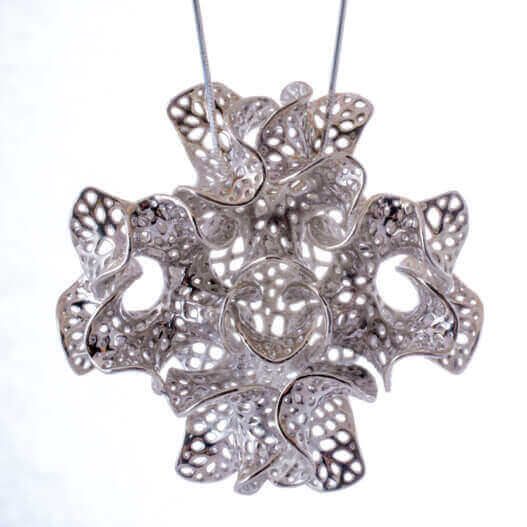 Another great place to find 3D printed jewelry is Nervous System. One of the most expensive pieces on their site is this gorgeous silver orchid necklace which will set you back $390. The description says: "This silver pendant exhibits an orchid-esque bilateral symmetry and an intricate pattern of perforations reminiscent of cellular structures."
Check it out at: Nervous Systems Shop
5. Morph Silver Bangle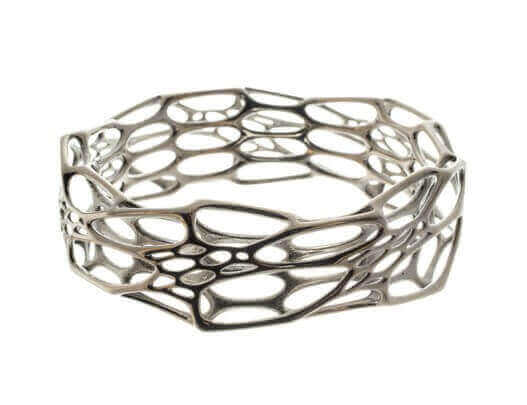 This sterling silver bangle was inspired by the complex cellular patterns of nature and is part of the Cell Cycle collection. It is built up layer by layer in wax using 3D printing and cast in sterling silver using lost wax casting. If the $450 price tag doesn't put you off, then you can find the design
If the $450 price tag doesn't put you off, then you can find the design at the Nervous Systems website.
6. Kolibri Skull Earrings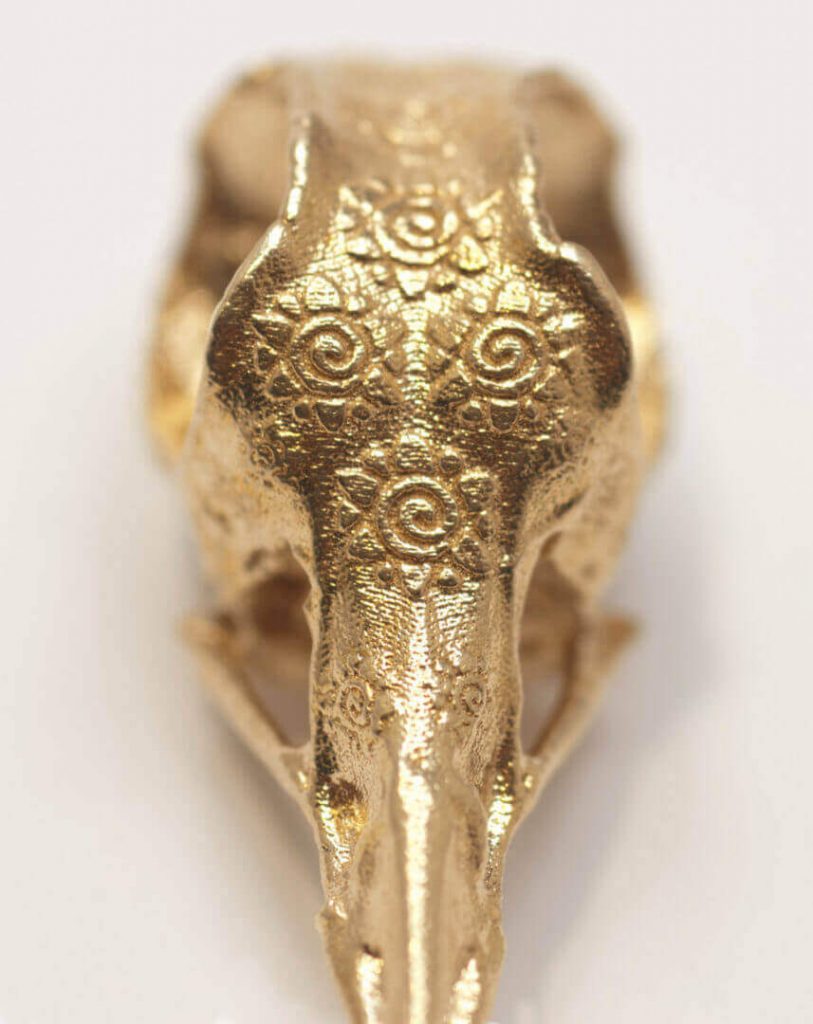 Memento Mori is the motto of these 3D printed jewelry collection. This Kolibri skull pendant 3D printed jewelry was made from real scans of a Kolibri skull. It is available in either bronze, silver, brass or gold.
This design by 3D Printed Skull, along with other items can be found on Etsy. Pricing is around $65.
7. Earrings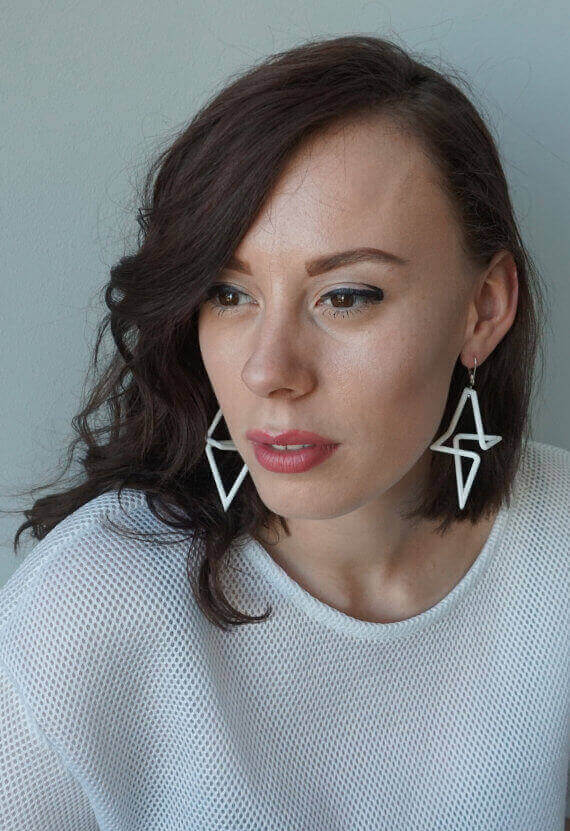 Dutch designer and artist Iris van Hulst has an interesting portfolio, ranging from 3D printed jewelry to lamps and even spice graters. The depicted earrings are just one example of her bold, yet elegant designs.
Check out her website or Etsy page.
8. Crown Ring

Trove is an online platform for discovering, sharing, and customizing 3D printed jewelry designs. You can browse through a variety of design templates and use the in-browser customization software to personalize your jewelry to perfectly fit your style.
Check out at Trove.
9. Isharya Jewelry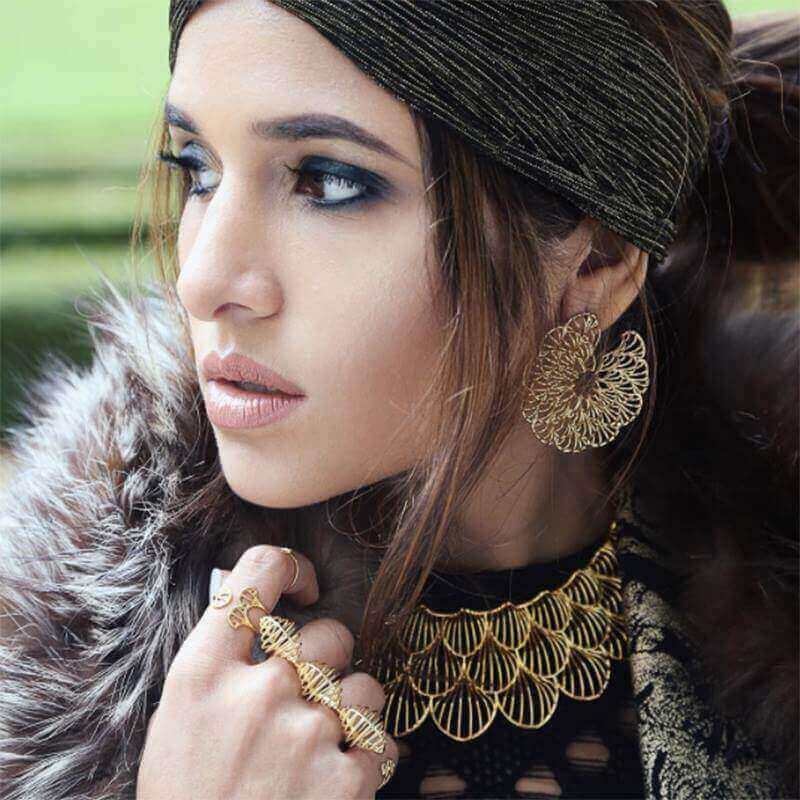 Isharya is sisters-in-law Gauri and Radhika Tandon, operating out of California and Mumbai. Together their unique blend of Indian styling with Californian aesthetics has won the brand fandom the world over. A great example of 3D printed jewelry.
Read more about them here.
10. Pronto 3D Earrings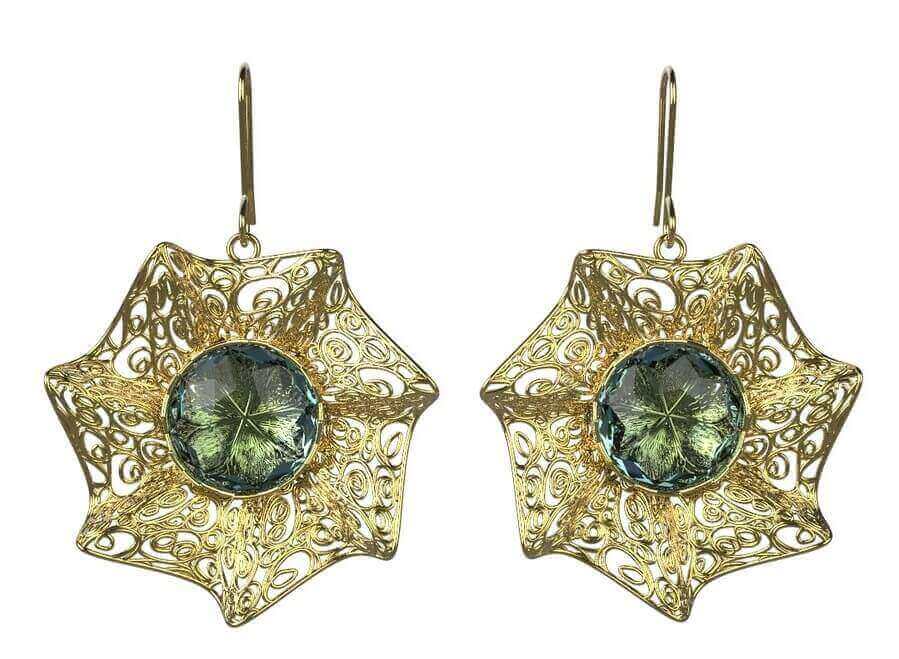 The younger generation of professionals from the established company, Nemesi, have launched Pronto3D, an online service that makes jewelry manufacturing skills available to everyone.
You can find the design in their Nemesi portfolio.
11. Wearable Planter Vase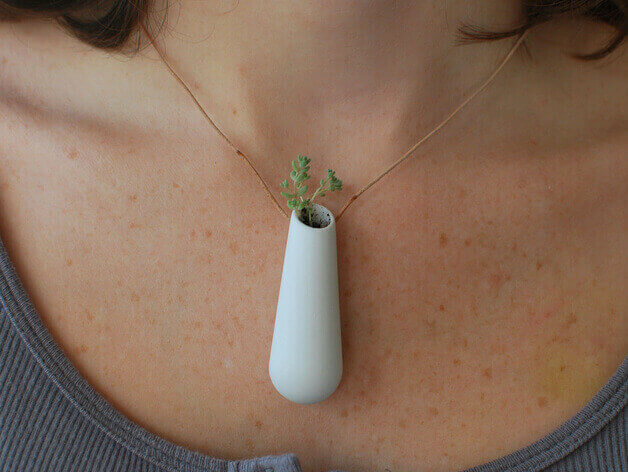 If you're looking for some more alternative jewelry, then this planter necklace may be perfect for you. The designer said: "Carry a plant with you on an adventure." Thingiverse have an extensive range of interesting 3D printed jewelry.
Check out this particular design at the Thingiverse website.
12. Calyx Ring No. 2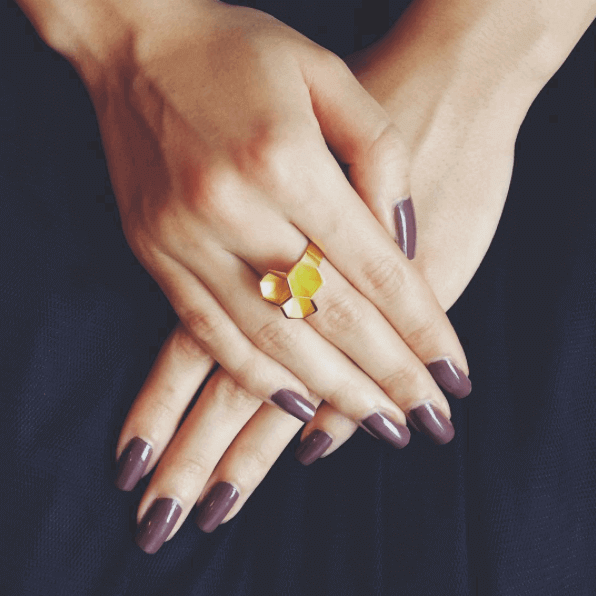 The Berlin-based jewelry company "RADIAN" has specialized in 3D printing jewelry ranging from rings to bracelets to necklaces. You can have their elegant creations in different materials like gold plated, silver, stainless steel, to plain nylon.
Check out their shop for 3D printed jewelry.
13. Lightning Bolt Earrings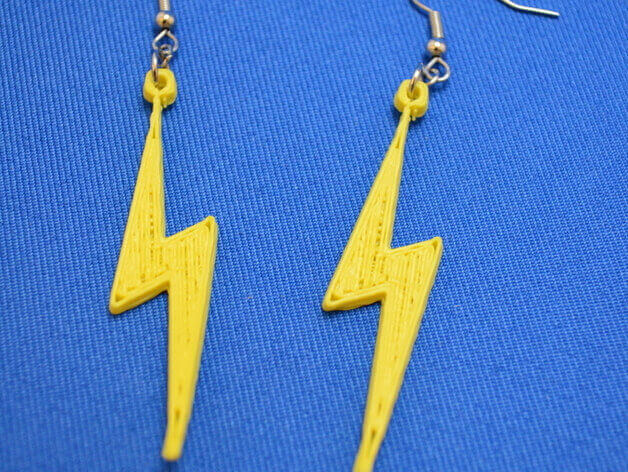 This quirky design was created by aprinc on Thingiverse. It's free for anyone to download here (as long as you don't use it commercially). You either need a 3D printer or a 3D printing service to have it printed for you. Once you print is in your hands, you can easily attach fish hook earrings using two jump rings. One of many great DIY designs you can find on the web.
Get it from Thingiverse.
14. Romi Beads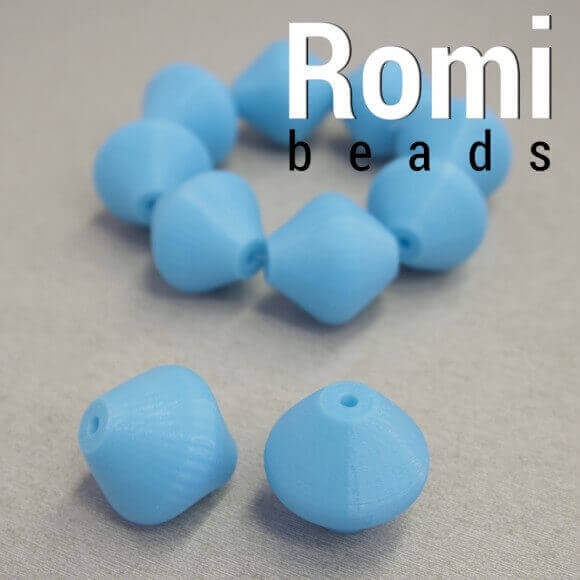 These wide round shaped beads can easily be mixed and matched to create a quirky and personal bracelet or necklace. They also can be printed in a variety of different colors.
You can find this design, and others like it on 3DShook.
15. Mayan Triangles Ring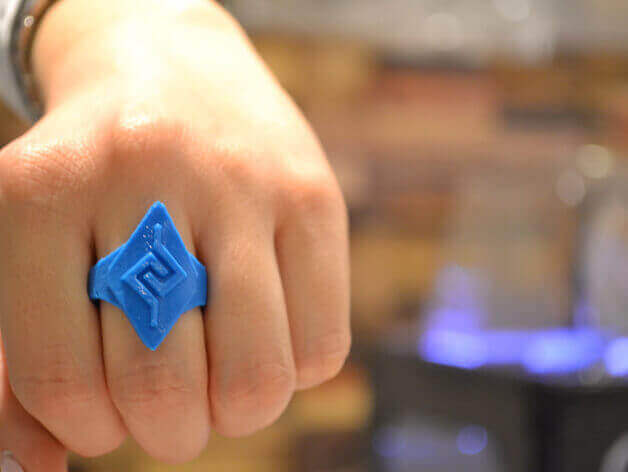 The designer said of this piece of 3D printed jewelry: "Inspired by the legendary mayan civilization, this ring represents the geometric perfection of the architecture, design and symbology of this great ancient civilization. The equilibrium symbol is at the center of the ring."
Check out the design on Thingiverse.
16. Bear Pendant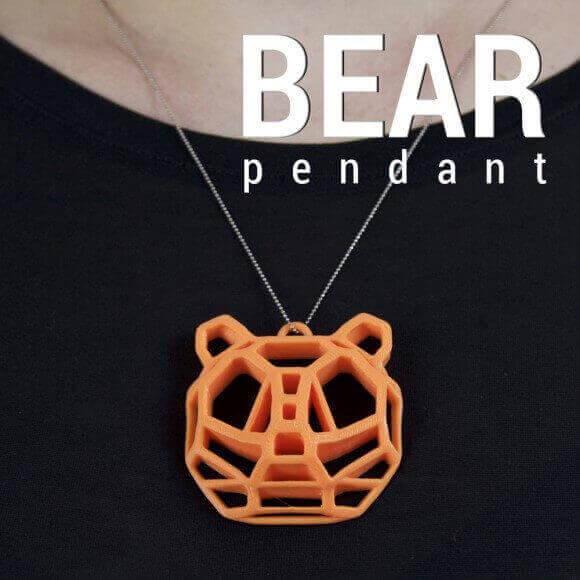 This geometric bear print makes a very simple 3D printed jewelry piece which you could easily wear every day. You can find this simple, cute design on 3DShook for $2.
17. Umbrella Girls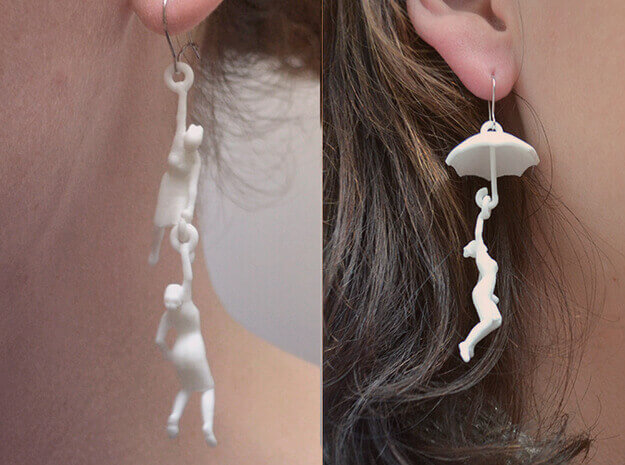 If you fancy having miniature people hanging from your earlobes, then this design is one for you. The cute little umbrella girls will set you back €26.15. Find the design on Shapeways.
18. Silver Bamboo Cuff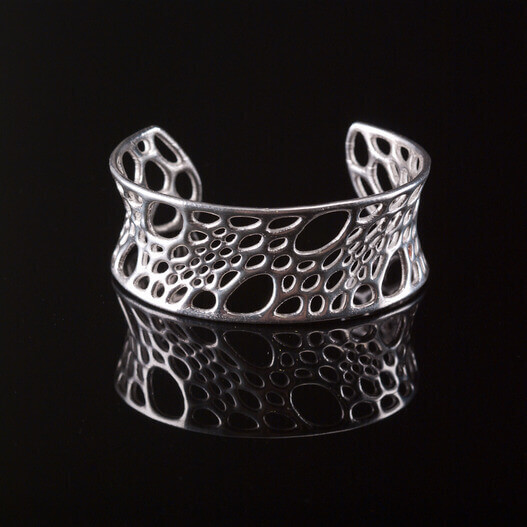 Nervous System said of this design: "Inspired by the complex forms of radiolarians, where intricate pattern is integral to structure, these shapes derive from a simulation of spring meshes." This piece of 3D printed jewelry costs $320, but is pretty impressive.
Check it out at Nervous System's Shop.
19. Chunky Bracelet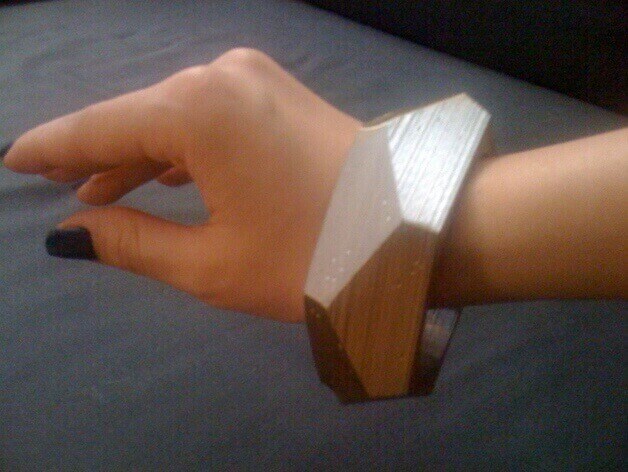 This piece of 3D printed jewelry offers you a lot of customization choices. The designer suggests that once you have printed the piece you can have fun painting and decorating it. She even suggested printing it in different colors and gluing rhinestones on it.
Check out the design at Thingiverse.
20. Origami Crane Necklace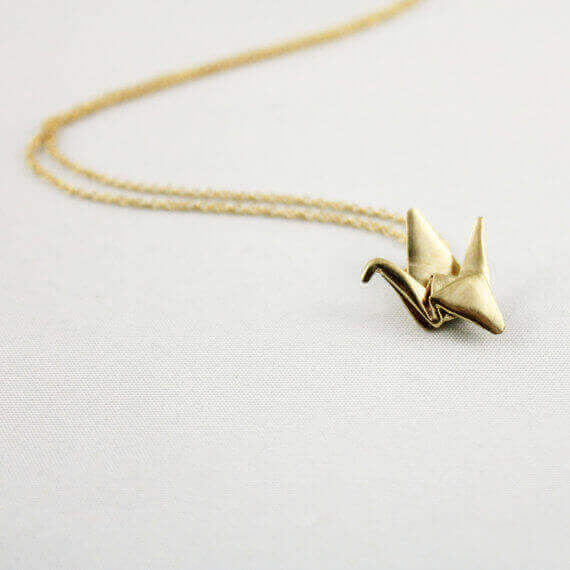 The designer said of this piece of 3D printed jewelry: "This elegant, brass origami crane charm allows you to carry your hopes and wishes with you everywhere you go." You can find the design on Etsy.
License: The text of "20 Outstanding Pieces of 3D Printed Jewelry" by All3DP is licensed under a Creative Commons Attribution 4.0 International License.
Subscribe to updates from All3DP
You are subscribed to updates from All3DP
Subscribe
You can't subscribe to updates from All3DP. Learn more…