Honestly, there's nothing more heartwarming than your personal piece of chocolate. Since 3D printing has appeared on the scene, you can dream of much more personal and unique chocolate shapes.
However, in spite of the many articles and reports that have appeared, a chocolate 3D printer is still rather hard to find. Is that going to change anytime soon? Let's take a look.
3D Printed Chocolate on the 2D Edge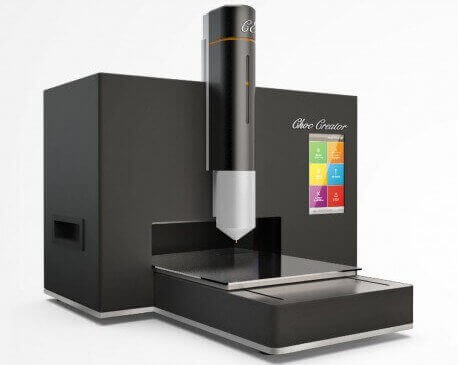 As of now, there's only one established chocolate 3D printer manufacturer in the world. That's UK based Choc Edge. The company was founded by Dr. Lian Hao. It has been selling different versions of its Choc Creator 3D printer since 2012. Lian Ha conducted extensive research in molten chocolate in order to ensure that the extruded chocolate tastes and feels exactly like traditional one.
The only limit is that, for now, the Choc Edge is more of a chocolate 2D plotter, than an actual 3D printer. This means you can make many different shapes. However, they cannot be taller than a few millimetres (like a bas-relief) and not very geometrically complex.
Hershey and 3D Systems: 3D Printed Chocolate United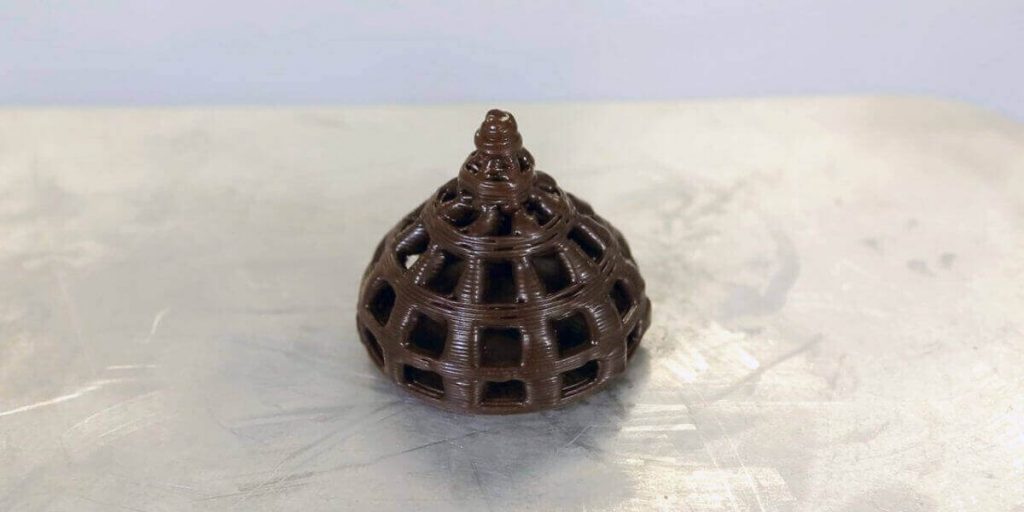 3D Systems, one of the biggest producer of 3D printers in the world, announced two very fascinating machines in 2015. They are able to make real 3D structures from many different materials – chocolate being one of them. These machines are not yet available, but they might finally launch at CES 2016.
The one that seems more finished is the ChocoJet. It was developed in close collaboration with Hershey, one of the world's biggest chocolate producers. The ChocoJet works similar to the Choc Edge, thus extruding mostly 2D figures. However, it is based on the CubePro architecture and is capable of more intricate 3D as well.
Right now, Hershey is the only company that has one.
Chef Jet, the other food-based project by 3D Systems, dates back a bit longer. It uses a food version of binder jetting technology. So it basically uses water to bind together chocolate or sugar powder. This way it can create highly intricate 3D structures. But it also seems somewhat less reliable, which may be the reason why there is no launch date in sight yet.
3D Printed Chocolate at the Supermarket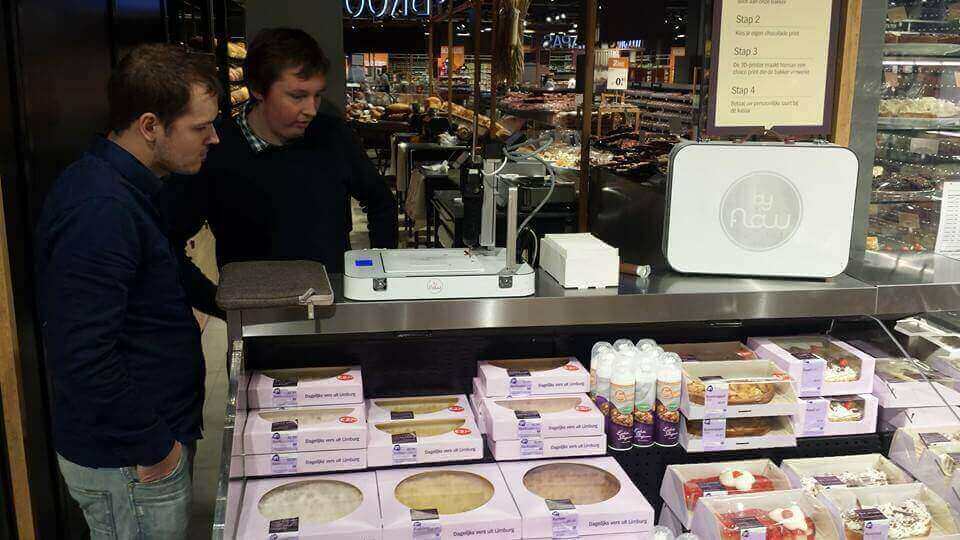 When it comes to 3D printing chocolate on the go, Dutch company byFlow is leading the way. The Alber Hejin supermarket in Eindhoven is using a byFlow to offer chocolate 3D printed decorations on cakes. It may be the first commercial venue (certainly the first large supermarket) to do so. So if you really want to buy 3D printed chocolate today you might have to take a trip to the Netherlands.
The byFlow 3D printer is a highly portable system which lets users easily switch excursion systems, thus enabling both thermoplastic and pneumatic paste extrusion (which is they type of extrusion required for molten chocolate).
3D Printing Traditional Chocolate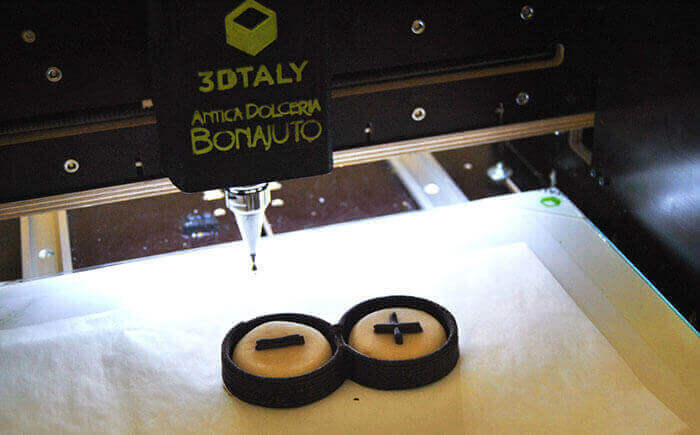 One of the most fascinating projects was undertaken in 2014 by Italian 3D printing store chain 3DiTALY. To launch their new store in Ragusa, Sicily, they partnered with Italian 3D printer manufacturer WASP and with Antica Dolceria Bonaiuto, one of the oldest chocolate producers in the world. The management of Antica Dolceria Bonaiuto immediately embraced the new technology, fully understanding its potential from the very start. The best part is that the chocolate they used is a very unique and delicious type, called Modica Chocolate. This ancient recipe's consistency proved to be ideal for 3D printing and high inspire a fully dedicated chocolate 3D printer in the future.
DIY 3D Printed Chocolate
The truth is: If you want to enjoy 3D printed chocolate, your best bet is to make it yourself. There are many 3D models for chocolate extruders that you can download and 3D print yourself. In fact they are not so different from some of the ones that we covered in this article. That's also what "celebrity makers" such as South African inventor Hans Fouche, have used for their own projects.
The most popular DIY chocolate extruder was developed by another celebrity maker: Richard Horne, aka RichRap. His Universal Paste Extruder can be used for any past material, including silicon, gels and, of course, chocolate.
RIchRap's is not the only such project. You can find open source and commercial paste extruders all over the web. A popular one is the Discov3ry extruder, from Canadian company Structur3D.
The latest one to join the chocolate craze is Polish 3D printer manufacturer Zmorph, which also produces a 3D printer that can easily swap heads in order to offer milling, scanning and pneumatic paste extrusion. Their new chocolate extruder makes it easy to 3D print cake decorations and they have even made a video to show you exactly how to do it. Check it out, maybe you will not find a shop to offer 3D printed chocolate near you but you just might be able to become that shop yourself.
https://www.youtube.com/watch?v=ivKElpB5k-8
License: The text of "3D Printed Chocolate: How To Get The Yummy Stuff" by All3DP is licensed under a Creative Commons Attribution 4.0 International License.
Subscribe to updates from All3DP
You are subscribed to updates from All3DP
Subscribe
You can't subscribe to updates from All3DP. Learn more…