Who should read this: anyone interested in finding out about the past, present and future of 3D printed cars!
Even though Local Motors changed everything in 2014 by 3D printing an entire car as a single piece with its amazing Strati project, 3D printing has been used to make real prototypes and concept cars for more than two decades. The difference is that now just about every single part of a car can be 3D printed and that the growing adoption of 3D printing is enabling designers and engineers to create shapes and models that were never possible before, giving us cars that are lighter, faster, more fuel efficient and a lot cooler looking.
From the past to the future
We don't have to go very far to find out where 3D printing has gotten us. Just last week US president Barack Obama held a conference in Tennessee taking the stage next to a spectacular Shelby Cobra, one of the most iconic American cars ever. Only this one was entirely 3D printed, piece by piece, by a researchers from the Oak Ridge National Laboratory Additive Manufacturing Facility, with tow local companies supplying the materials and know-how for the finish.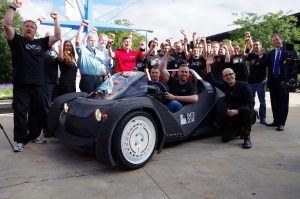 The following day Strati announced it is opening two new car 3D printing facilities. In the unlikely eventuality that you have not yet heard about, Strati is the result of a collaborative creativity contest held by Local Motors, an Arizona start up that creates open, custom car parts through an online community and the use of 3D printing. The Strati design, by Italian designer Michele Anoè, was chosen among hundreds to be the first fully 3D printed car body (on the base of a Renault Twizy EV). And it has enjoyed a huge success.
Tailor made supercars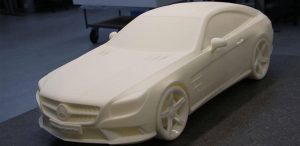 This does not mean that you are going to go to a dealer and personalize your model to be 3D printed on the spot anytime soon. Still, 3D printing is having an enormous impact on the entire car industry by shortening the development cycle for a new car model from as long as six years in the 80's to little over a year today. And allowing the more fortunate among us to be able to own supercars that are literally made just for them.
The current reality is that all the main processes of 3D printing with polymers, SLA, FDM, Polyjet, SLS and – to a lesser extent – even those based on metals (EBM, SLM, DMLS) are already implemented in the automotive industry. Prototypes of components, engines, body shells are made through rapid prototyping processes (that is, the 3D printing). The real, big news of recent times is that now the additive manufacturing (another name for 3D printing) has broken down the cost and speed of production to a point where it can be implemented more and more often for small series of parts, components and accessories for end use. All major car companies have an army of in-house 3D printers and often turn to outside professional for more 3D printing services.
3D printed cars: from modern to retro
In its additive manufacturing centers in the US and Europe, Ford produces up to 100,000 3D printed components a year and its implementation of 3D printing for functional parts in prototypes and concept cars, dates back to 2006, when it presented the Ford GT Heritage Edition for its 100th anniversary. Mercedes owes to additive manufacturing much of its recent Formula 1 success, while Ferrari, Ducati, Bugatti, Lamborghini and all the top brands from Italy's Motor Valley have recently stepped up their use of 3D printers even more.
Engineers use reverse engineering (the 3D scanning of the shape of the components) to create models and to restore or customize old cars or models that are no longer in production. Last year, American company C.Ideas made a perfect replica of a 1927 Miller 91 of 1927 showing exactly how they implemented the four major 3D printing processes: FDM, SLA, Polyjet and SLS to create each different part. This year they assembled a Lotus 340R concept car from 1998, of which only 340 copies were ever produced, with more than 40 components recreated via reverse engineering and 3D printed with new materials for even higher performances than the originals.
Meet Urbee, the first 3d printed car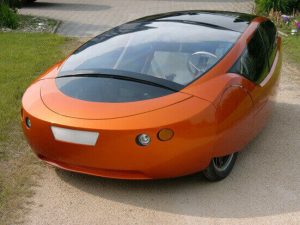 The first car "entirely" 3D printed was the first URBEE concept in 2012. It was an experiment in sustainable mobility. Jim Kor, the man who conceived it, wanted to create a car that consumed so little that it could be recharged with solar panels in the garage and could use just two small ethanol gas tanks to drive across the United States. He used 3D printing – courtesy of Stratasys – because it was the fastest and most efficient way to create a unique piece.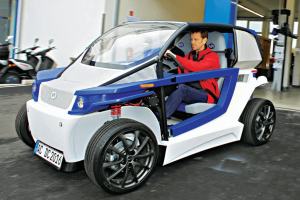 Stratasys took this experience to the next level in 2015, with the StreetScooter C-16, a fully street legal EV city car with a pricetag below $10.000. Developed in collaboration with Aachen University, the car was built to compete with fossil fuels in terms of price and performance, while being more sustainable. 3D printing has been used intensively for other similar projects of sustainable mobility. For example Ultimaker and Leapfrog provided the printers to build most of the components of the car that the Dutch University of Hogeschool Zuyd presented to compete at the2014 Shell Eco Marathon.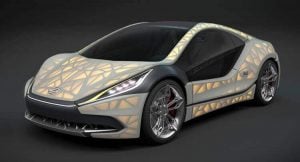 Arguably the most fascinating experiments in terms of shape are those carried out by the German studio EDAG. It presented the amazing Genesis concept in Geneva last year, inspired by the way a turtle shell wraps around the turtle's body to protect it. This year the company moved closer to reality with the Light Cocoon concept, an experiment in optimizing the car's weight without sacrificing any of its structural integrity. Cars that are lighter, faster, safer and a lot cooler looking: that is the promise of 3D printing. Whether we will let them drive themselves that remains to be seen.
License: The text of "3D Printed Cars Are Racing Out of the Factories" by All3DP is licensed under a Creative Commons Attribution 4.0 International License.
Subscribe to updates from All3DP
You are subscribed to updates from All3DP
Subscribe
You can't subscribe to updates from All3DP. Learn more…