One step closer to reality, the construction of the world's first fully functional 3D printed bridge has officially commenced in Amsterdam.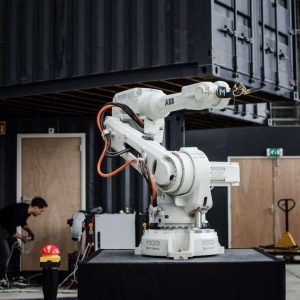 Dutch company MX3D have officially opened their building site where robot arms will begin printing a steel bridge.
Once completed, the world's first functional 3D printed bridge will eventually be placed in the Red Light District of Amsterdam.
Alderman and Deputy Mayor Kajsa Ollongren presided over the opening ceremony, and announced that the 3D printed bridge, designed by Joris Laarman, will be installed across the Oudezijds Achterburgwal canal.
If successful, the bridge building technique could become standard on construction sites of the future.
How to make a 3D Printed Bridge
Perhaps a 3D printed bridge sounds like the stuff of science fiction, but the process is actually pretty straightforward.
Specially designed robotic arms heat the metal to 1,500 degrees Celsius, which then welds the structure using a computer programme to plot an intricate design inspired by 17th century styles.
"The underlying principle is very simple. We have connected an advanced welding machine to an industrial robot arm," explains the bridge's designer Joris Laarman. "We now use our own intelligent software to operate these machines so they can print very complex metal shapes which can differ each time."
Before now, the robotic arm had only ever been used to print smaller metal structures, but this project will be the first ever large-scale use of this technology.
This technique also removes the need for scaffolding, because the robot arms will use the very structure they print as support. This is extremely useful, especially in terms of minimising construction waste or working in areas of restricted movement.
For the curious, the Visitor's Centre at the Neveritaweg 15 in Amsterdam is open every Friday from 12:00 to 16:00. For additional information and reservations email [email protected].
What do you think about this 3D printed bridge? Do you reckon it offers any significant advantages over a conventional structure?
License: The text of "3D Printed Bridge Construction Begins in Amsterdam" by All3DP is licensed under a Creative Commons Attribution 4.0 International License.
Subscribe to updates from All3DP
You are subscribed to updates from All3DP
Subscribe
You can't subscribe to updates from All3DP. Learn more…