We have to admit we're biased when it comes to 3D printing. So our bets have been placed on the 3D printed cart at the Bangalow Billy Cart Derby in New South Wales, Australia, this year.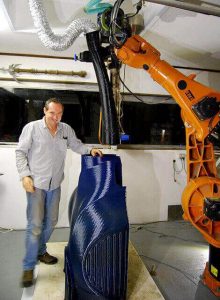 The small town race is an annual family event which attracts participants of all ages to join in on the fun and features many different homemade billy carts.
This year, the Bangalow derby will be held on May 15th, 2016 and perhaps the best cart, which we have bets on already, will be the 3D printed one developed by Steve Rosewell.
Rosewell came up with a very clever 3D printed design; thanks to the fact that he also runs a design studio called Studio Kite, he knows all about the benefits of additive manufacturing. The studio produces an impressive array of 3D printing projects for everything from movie sets to medical labs and so Rosewell began using this technology to design his own vehicle.
How was the 3D printed Billy Cart Made?
The rules which restrict the carts include; all must begin with a standing start and no form of propulsion is allowed at all – meaning no pedaling or pushing.
Other than this, the participants have free reign over their cart so long as the movement of it is generated by weight moving downhill.
Taking this into account, Rosewell's cart is called the "Bukitty", which is like Bugatti with a kite in it. That's not all that is special about the cart as it is reminiscent of 60s cartoon characters' vehicles like the Batmobile or George Jetson's little runabout.
The cart was printed using recycled ABS plastic in several parts and then assembled, and Rosewell claims it took a comparatively short print time.
Rosewell said that his Bukitty cart perfectly showcases the relatively waste-free nature of 3D printing and that he hopes to inspire children as well as showcase modern making techniques. "At the moment most of the usable (chipped) recycled ABS material comes from overseas, there are not as many local suppliers", Rosewell said.
He is also hoping that the Bukitty cart will help local governments recognize the recycling power of 3D printing.
Make sure to watch out for the derby this year, and check out the video below for a taste of previous action.
https://youtu.be/gK3lhDbPKG0
License: The text of "3D Printed Billy Cart Enters Bangalow Derby" by All3DP is licensed under a Creative Commons Attribution 4.0 International License.
Subscribe to updates from All3DP
You are subscribed to updates from All3DP
Subscribe
You can't subscribe to updates from All3DP. Learn more…