1. The basics
Card Storage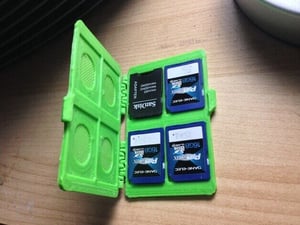 If you don't own a DSLR from the professional DSLR lineup, you'll have standard SD cards in your camera. This 3D printed wallet SD case takes and protects 4 of them.
If you have a lot more of them and need to keep the data, an index box for SD cards would be nice. If that just was invented yet! Wait – it exists. You can't buy it in stores, but, as so often, 3D print it. The 3 x 5 SD card case combines standard 3 x 5 index cards as labels and SD cards.
Lens caps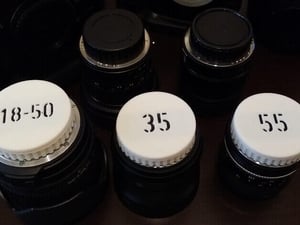 The rear lens cap on any lens you buy is usually plain black. 3D printed lens caps work for Canon, Nikon and Pentax that feature the lense's focal length look like a good idea, right?
For the other side of the lenses or in case you lost their original caps, this 3D model for a front lens cap is scalable and as such can fit all of your lenses.
Lens cap holders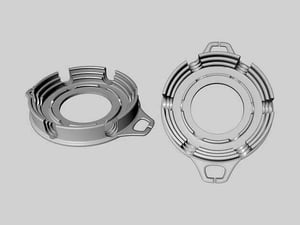 If you're like me, you're always nearly loosing your lens caps. When you take them off the lens, where should you put them? In the camera bag, in your pockets (hint: no), lay them on the table or just the next best flat surface? That's how lens caps get lost.
To prevent this, you should get used to always put them on a lens cap holder. This 3D printable model takes 3 different sizes. For any other size, just try searching for one in the correct size in Thingiverse.
Lens hoods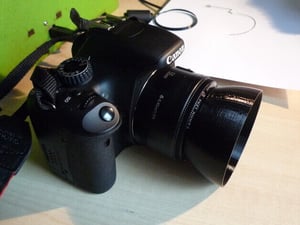 Considering it is a really nice lens and widely used, I'm featuring the 3D printed Lens hood for Canon's "nifty fifty" (50mm f1.8) here. A lens hood eliminates glare and lens flares coming from light sources from the side of your lens. The lens hood prevents this.
2. The tilt-shift photographer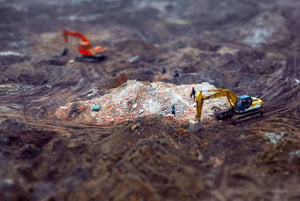 With the Tilt-shift adapter for Canon EF, you can transform your regular lens into a premium tilt-shift one. The amount to tilt and shift is fixed with this 3D printed tilt-shift adapter, but it still spares you from spending more than 2000$ on the original Canon or Nikon specialty lenses or just under 1000$ for the Samyang alternative.
3. The macro photographer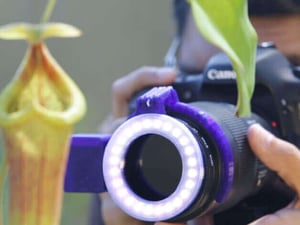 Macro photography has one problem, basically. The closer you get to your subject, the more light you're blocking from it. And as your subject is small, every minuscule movement can blur the picture. You need a fast shutter speed, the aperture wide open, and what will help is a macro light. The Camera LED ring light by Adafruit is an affordable solution (about 35$ in parts) that gives you a lot of options. You can play around with the color of the light, finetune brightness settings, and customize everything about it, should you ever need to.
4. The vintage photographer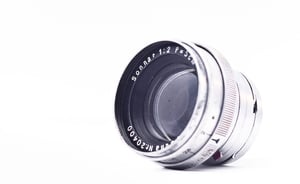 Old lenses don't need to be a worse choice than recent, top-notch lens models. Vintage lenses have not only the advantage of a low price (I got some really nice lenses on the flea market for less than 20 bucks), but also do they produce a sought-after look that apps and filters try to reproduce in modern photography.
The Open Sonnar is a 3D printed solution to mount an old Sonnar lens to a mirrorless Sony NEX/E-Mount camera. Those Sonnar models focusing system was integrated into the camera body, so this is a workaround that makes them usable again on other bodies.
The 3D printed EF Adapter for Zeiss Ikon Projector Lens (85mm f2.0) lets you use a lens from a slide projector for photography. Keep in mind these lenses weren't initially designed with a photographic use in mind, but provide amazing results none the less.
I hope this is a nice inspiration for photographers that are just starting out or want to try out new things in photography. Keep experimenting, and if you plan on using any of the items in this article, feel free to contact me. I´ll be glad to help and see what you did!
License: The text of "3D Printed DSLR Accessories For Photographers" by All3DP is licensed under a Creative Commons Attribution 4.0 International License.
Stay informed with notifications from All3DP.
You get a notification when a new article is published.