Looking for information on 3D Hubs? We've accumulated the most important facts in this company profile.
11 Facts on 3D Hubs
1. Full Name
3D Hubs.
2. Company Information
Dubbed as the world's largest and fastest growing network of 3D printers, 3D Hubs offers access to local and on-demand production by connecting everyone anywhere to nearby 3D printer owners. The network consists of more than 26,000 3D printing locations worldwide (Status January 2016) in over 150 countries, therefore providing over one billion people access to a 3D printer within 10 miles of their own homes. It's a community which looks to accelerate the future of 3D printing in a number of different contexts.
3. History
Founded in 2013 by Dutch design engineers Brian and Bram, 3D Hubs was formed after their joint experience driving Freedom of Creation in 2009, the pioneering company that was the first to use 3D printing to produce actual end-products. After the acquisition by 3D Systems in 2011, they together became involved in the design and launch of a new consumer platform that has since raised millions in investments – and is arguably progressing the way in which consumers approach 3D printing technology around the world.
With an expanded team of 35 people across two offices in Amsterdam and New York, 3D Hubs approaches the Maker Movement through an optimistic approach to disrupting established manufacturing processes. It also brings together those interested in 3D printing via a strong and generous community.
4. Products
Rather than offering hardware options, 3D Hubs' most important products come in the form of knowledge-sharing platforms.
3D Print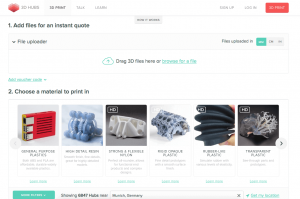 The online 3D printing service which 3D Hubs delivers directs users to their closest listed 'hub'. From the website, you can start a print, list your own printer, find a design to 3D print or even 3D print in HD.
Talk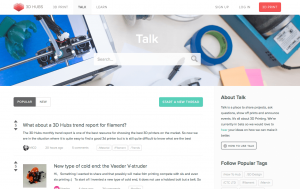 What can often make 3D printing difficult to access is a lack of understanding – which is why 3D Hubs offer an online forum platform as well as regular local Meetup events to promote knowledge sharing for 3D printing support.
Learn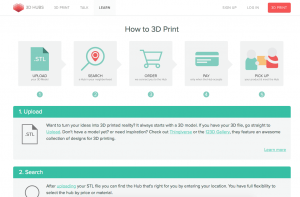 As a way to provide unbiased information about 3D printing around the world, 3D Hubs freely offer a tend report, as well as material and hardware guides to help their users create the best products.
5. Founders
Bram de Zwart and Brian Garret, April 2013
6. CEO
Bram de Zwart
7. Employees
11 – 50
8. Headquarters & Address
3D Hubs Amsterdam
Herengracht 182
1016BR Amsterdam
Netherlands
3D Hubs New York
1123 Broadway #501 (5th floor)
New York, NY 10010
U.S.A. 
9. Contact & Telephone
Email: [email protected]
Telephone (US): +1(347) 966-8024
Telephone (NL): +31 202 611 900
10. Website
11. Facebook & Social Media
License: The text of "3D Hubs: Company Profile in 11 Facts" by All3DP is licensed under a Creative Commons Attribution 4.0 International License.
Subscribe to updates from All3DP
You are subscribed to updates from All3DP
Subscribe
You can't subscribe to updates from All3DP. Learn more…