This is the tricky one. On the free version of SketchUp, all of the export options are all blocked except the SKP format. As mentioned before, there are workarounds, but they take some effort.
The easiest way doesn't require any extra software. We need to upload our model to the 3D Warehouse platform and then download it in the Collada (.dae) format, since we can't export the model directly. Once that's done, it's just a matter of importing the file to Blender, as we did previously. Let's go through the required steps:
In SketchUp online, open your model.
Click on the menu icon on the upper left corner.
Go to "3D WAREHOUSE".
Indicate whether you want the model to be "Public" (available for everyone) or "Private".
Select a title and fill in a description. The mandatory fields and will be important later.
Click "Upload".
Once the upload is done, go to the 3D Warehouse website.
At the top search bar, type in the title of your model. If you uploaded it as a private model, you need to be logged in.
Once you find your model, click on the "Download" button on the model page.
From the drop-down list, select "Collada File".
Unzip the downloaded file.
In Blender, go to "File", "Import", and then select "Collada (Default) (.dae)".
Select the .dae file located at the unzipped folder.
Click twice to import.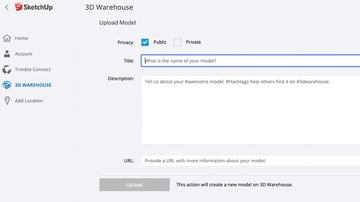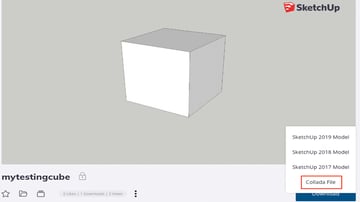 Alternative Approach
There is another workaround to get your models from the free version of SketchUp to Blender. There is an add-on for Blender that allows native SketchUp files to be imported directly. Unfortunately, at the time of writing, this add-on hasn't been updated for Blender 2.8 yet.
As such, to take this approach, you'll need the older 2.79 release of Blender. Luckily, all Blender versions are still available for download. Note that you can have two or more versions of the software installed in your machine at the same time. With the add-on, you can import SketchUp files directly at "File", "Import". Note that the add-on only works for the 2017 SketchUp files.
(Lead image source: Lucas Carolo via All3DP)