The best place to begin with Pronterface is the official Printrun website. Some people get confused by the Printrun headline, but don't worry, Pronterface is simply a part of the Printrun Suite.
Scroll down through the home page to find several options for download. First, you must find the best option for you.
Windows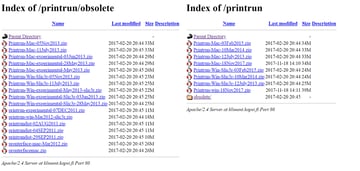 If you're running Windows on your machine, download Pronterface by clicking on the "Windows & OSX binaries" option. The link will take you to a separate page with a list of the latest releases. As of writing, the latest release for Windows is November 18th, 2017. This is the option "Printrun-win-18Nov2017.zip".
Save the Zip archive to your desired location. All you need to do to install is extract the contents of the Zip folder to a new location.
After that, you're ready to run the program!
Mac OS
To download the version Mac OS, click the same option, "Windows & OSX binaries". The same page with the latest releases will appear. The latest release for Mac OS is also from November 18th, 2017. This is the "Printrun-Mac-18Nov2017.zip" option.
A note for Mac OS users: If your computer tells you the file is corrupted, you don't need to re-download it. Instead, you need to allow Mac OS to run unsigned apps. To do this, you need to open Terminal and run the following command:
sudo spctl --master-disable
Note that this is technically a security feature, so you should be careful about using this command, in general.
Users of Mac OS X Catalina may experience problems with the release from 2017. Refer to the related GitHub thread for more information on how to get it working for your setup.
Linux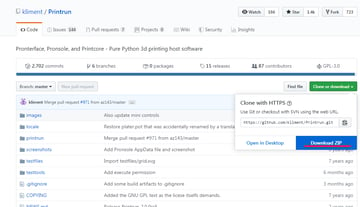 For Linux, you have two options depending on your distribution:
Ubuntu: The necessary files for the Ubuntu distribution are available from GitHub. (The link to the repository is also available from the download section of the Pronterface homepage.) The program must then be run from the source. Details can be found in the Read Me file on GitHub.
Fedora: For the Fedora distribution, click on the "master tarball" option. You'll then need to download the file "Printrun-master.tar.gz".
You can also install Printrun from official packages. Install the whole package using
sudo dnf install printrun
Alternatively, you can install only the apps you need by entering the command
sudo dnf install pronsole (or pronterface or plater)
Adding --enablerepo updates-testing to dnf might sometimes give you newer packages, but these may not be as stable.
Note that you should have Python (ideally Python 3.6) installed on Ubuntu in order to run Pronterface.