We've had a look at the plug-in at length, but this isn't the only one that enables remote access:
The Spaghetti Detective
The Spaghetti Detective is the brainchild of the same man who created OctoPrint Anywhere.
Pros
The plug-in does everything that OctoPrint Anywhere does and more. Using AI, it automatically stops the ongoing print if the camera detects a failure.
Technically, you can get away with zero remote access, as you don't need to worry about the success or failure of your print job.
Cons
Just as with OctoPrint Anywhere, a free account has limited streaming speed.
The AI detection on the free account is limited to 10 hours.
Polar Cloud
The Polar Cloud is an entire community of students, educators, and entrepreneurs looking to encourage project-based learning. As such, their plug-in is geared more towards classrooms.
Pros
Tons of features, sharing options, and a really intuitive UI.
A built-in slicer, which enables you to prepare your files for printing on the go.
Cons
The webcam streaming rate is very low.
The setup procedure is a bit lengthy and comparatively complicated.
Telegram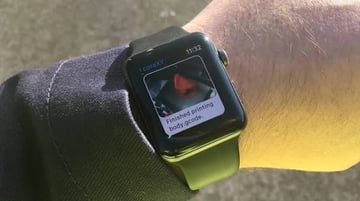 The multi-platform messaging service has a very interesting plug-in that goes along with OctoPrint. It lets you view the status of and cancel prints on the go.
Pros
As Telegram is a multi-platform service, you can view the status of your prints on any device, even your smartwatch.
Continuous updates of your print in messaging format.
Very minimalistic, but gets the job done.
Cons
The app sends updates in text format. No continuous live streaming is available. You just get a screenshot of your print job.
Some may find the setup procedure a bit complicated.
No provisions to change any printing parameters.
AstroPrint
AstroPrint is less of an alternative to OctoPrint Anywhere and more of an alternative to OctoPrint itself. Learn more about it and others in our article on OctoPrint alternatives.
(Lead image source: Kenneth Jiang via OctoPrint Anywhere)