Delrin, also known as acetal or POM, is a unique thermoplastic material. But before we discuss what makes it so special, let's clear up some issues around nomenclature.
What's in a Name?
When creating new formulations, it's common for material manufacturers to come up with their own unique names. In this case, the American chemicals company DuPont did just that when they manufactured an acetal resin thermoset plastic and called it Delrin. Since then, the Delrin name has simply stuck with people.
Scientifically, a more appropriate name for Delrin is polyoxymethylene (POM), which comes from the material's chemical background. There are two common types of POM: copolymer acetal (POM-C) and homopolymer acetal (POM-H). In fact, the latter is what's known as Delrin.
For the purposes of this article, we'll go along with the crowd and use "Delrin", even if what we're really talking about is POM-H-based 3D printing filaments.
Properties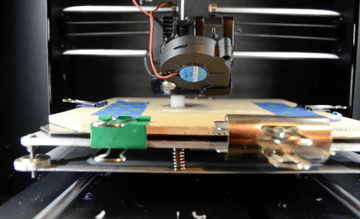 Delrin is essentially a high-performing engineering plastic. You could even say it's a material in between plastic and metal. That means it has a unique mix of properties, which include the following:
High level of stiffness
Low coefficient of friction
Chemical and heat resistance
Low moisture absorption
Dimensional stability
High resistance to wear
With this particular combination of properties, Delrin can be used for a number of different purposes, and at the same time, the benefits of the material make it more challenging to 3D print.
Now that we've gone over exactly what makes Delrin such a special material, we'll give you an overview of the most common types of objects that use Delrin filament. Hopefully, you'll come away with some ideas for what you'd like to print! We've got you covered with tips for successful prints, and finally, where to buy it.
Alternatively, if you'd rather not go through the hassle of 3D printing with such a stubborn material, there's always the option to use a 3D printing service. Through Craftcloud, the 3D printing and price comparison service from All3DP, you'll find a number of industrial-grade materials that are well-suited for functional parts.