Traditional FDM 3D printers can have many setups, the most popular being Cartesian and delta. These printers vary in their motion systems, but a common feature is that the toolhead moves linearly in the X, Y, and Z planes. All of these setups have limitations with respect to which geometries are possible to produce, and they usually require support structures simply because the deposition is made in one direction (top-down).
By adding extra movement axes, it's possible to create complex and intricate geometries without compromising surface quality or adding extra supports. Traditional fabrication industries have long accomplished similar work with 5-axis systems for CNC milling machines.
You may be wondering how these two extra axes are possible since the coordinate system has only X, Y, and Z planes. The answer is through rotation. The three rotational axes are labeled A, B, and C, and they respectively orbit the X-, Y-, and Z-axes. The diagram below shows all three linear axes plus the three rotational ones.
5-axis machines typically make use of axes A and B in addition to the linear axes. Although possible, 6-axis machines aren't very common because there are actually very few advantages brought by the sixth axis (in relationship to machine complexity).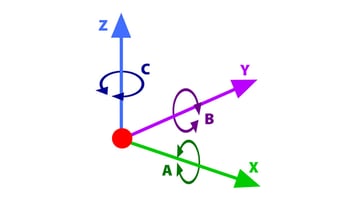 Five Axes in 3D Printing
For 3D printing specifically, having two extra axes allows for not only the complete elimination of support structures but also dynamic, non-planar surfaces. This enables new possibilities for higher quality surface finish, more design flexibility, and greater part strength. By printing from different directions, the part can come out much sturdier than by simply stacking layers in the Z direction.
While this solution seems to be the answer to many current 3D printing problems, 5-axis 3D printing is not without its own issues. First and foremost, machine dynamics are much more complicated than with 3-axis 3D printing. Also, the slicing process becomes problematic, as most slicers assume layers are built up in a single direction. This means some tool paths must be manually computed in more complex CAM software, especially in the case of 3D printing a non-planar surface, for example.
While there are still many constraints to 5-axis 3D printing, we'll see in this article that it's not only possible – it's reality. Note that the majority of the machines on the market or still in development are hybrid systems. In other words, they're generic CNC systems with changeable tool heads that allow for multiple functions.
That said, let's dive into some of what we think are the most interesting machines and projects that use five (and even six) axes for additive manufacturing.