The STL files for the DIY filament can be downloaded from Thingiverse. Turbo_SunShine has uploaded three different versions that provide you with specified amounts of material, including 7 grams, 30 grams, and 110 gram. Keep in mind that the longer version has not been tested yet, so print at your own risk!
This project is specifically designed to create 1.75mm filament. Your 3D printer should have at least a 200 x 200mm build volume.
It might seem complicated, but the basic idea behind this project is changing out your filament mid-print, allowing you to lay down a new color on top of the spiral pattern being printed. Once completed, the winding filament on the print bed can be reloaded into the printer and used to create vibrant, multi-color objects.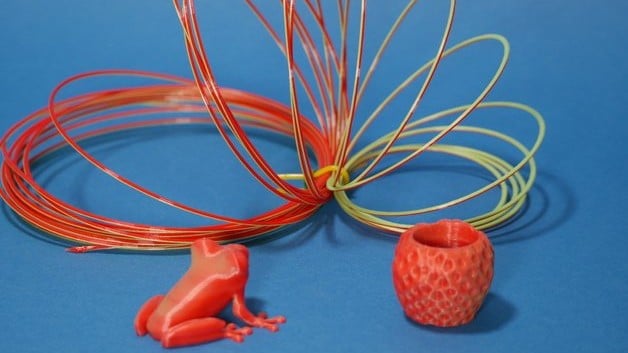 For slicer settings, use 100 percent infill and turn off combing. According to Turbo_SunShine, he's still working on perfecting the slicer settings, as the middle of the print tends to be less consistent. He also recommends increasing flow to 150 percent, but you should also experiment to find the best settings for your 3D printer.
And that's all you really need to know to get started on this simple, yet extraordinary Weekend Project. If you need more information, check out the maker's YouTube video below, as well as the various makes that other Thingiverse users have come up with.