Before we get into the nitty-gritty details, allow us to explain the distinct process that makes this 3D printer so unique. The Rize XRIZE fuses two different technologies to achieve full-color parts that are mechanically sound.
The Rize XRIZE utilizes a hybrid technique called Augmented Deposition, fusing extrusion-based 3D printing with jetting technology akin to that used by regular 2D printers. While the engineering-grade thermoplastic part is being created layer-by-layer, the 3D printer simultaneously releases CMYK (cyan, magenta, yellow, black) inks through printheads to add color.
By using this process, the XRIZE is capable of manufacturing functional parts in full, voxel-level color. Being a desktop 3D printer, the 310 x 200 x 200mm build volume may be a bit underwhelming for large-format aspirations, though it should be adequate enough for most applications.
Industrial applications that this 3D printer is best-suited for includes parts for FEA and stress analysis, tooling, consumer goods, packaging design, topography mapping, realistic anatomical parts, props for marketing campaigns, and more. With the CMYK and marking ink, you can add QR codes, part numbers, instructions, safety warnings, and other graphics to the finished part.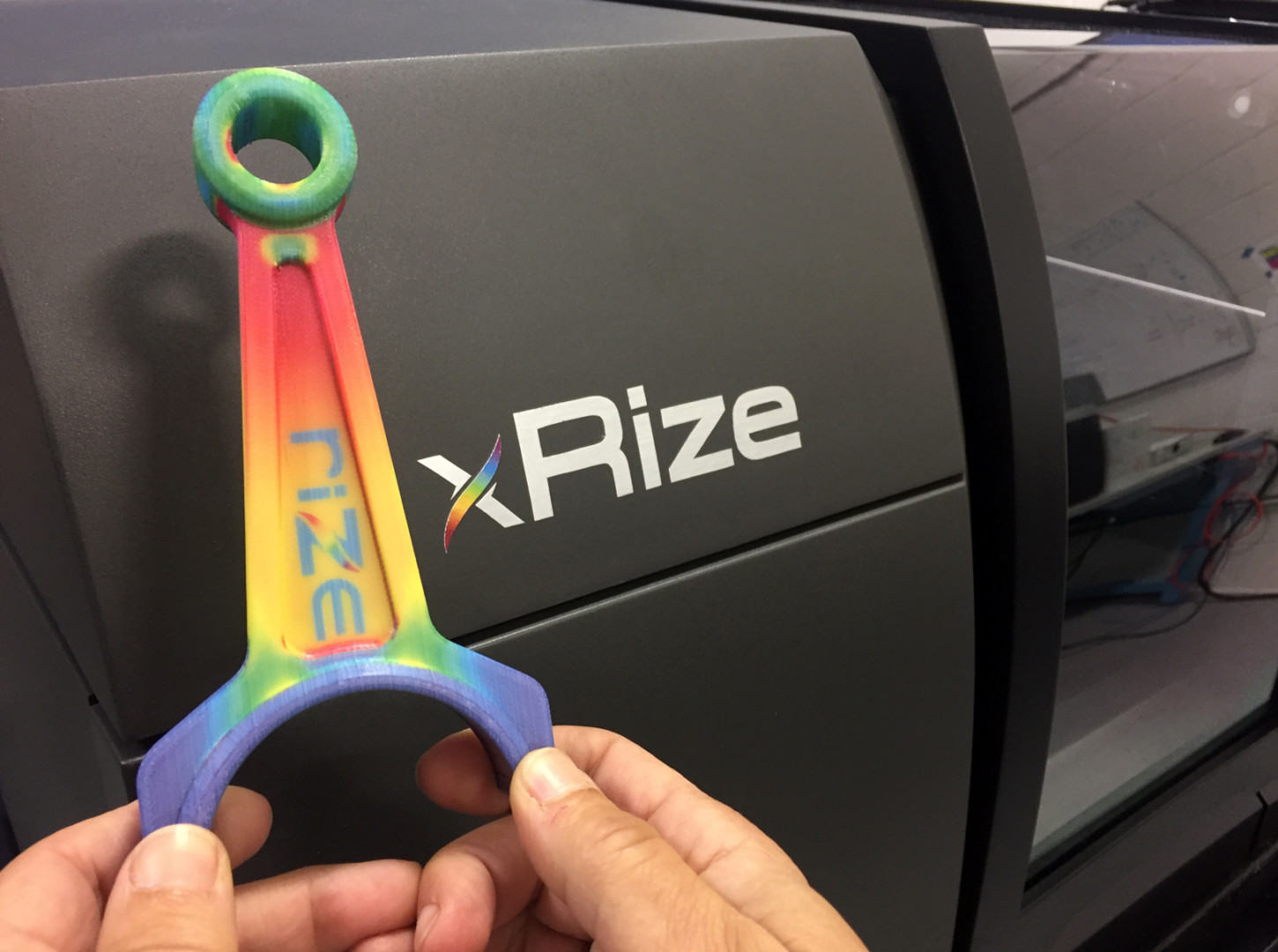 Like the RIZE ONE before it, the XRIZE also uses the manufacturer's special Release Ink to separate the actual part from automatically-generated support structures, allowing users to quickly and cleanly peel away the support material once the print is complete. In turn, this minimizes any need for post-processing, demonstrating yet another advantage of the Augmented Deposition technique.
While there are other industrial-sized 3D printers that offer full-color 3D printing, the Rize XRIZE does so at a surprisingly affordable price (for a professional machine, that is).
Packaged alongside the RIZE XRIZE is the manufacturer's proprietary OneTouch software, which allows users to add text, images, and texture maps to monochrome part files.
Although this system is designed to use proprietary materials, the Rize team has made sure to develop multiple materials that serve various functional purposes. These include:
RIZIUM CARBON – a carbon fiber-reinforced thermoplastic that offers a higher modulus and sleek surface finish
RIZIUM ENDURA – a fiber-enforced that provides high impact strength and dimensional stability
RIZIUM ONE & BLACK – two engineering-grade thermoplastics that have an interlayer bond that is mechanically superior to 3D printed polycarbonate, carbon-fiber reinforced nylon, and ABSPlus
CMYK & Marking Ink – Colorful ink that can be used to add branding, imagery, and data to 3D printed parts
RELEASE ONE – A repelling agent that is jetted in between the part and the support structure for easy removal
All in all, the Rize XRIZE aims to offer a middle ground for industrial users that need to produce parts that are both colorful and strong. By integrating its groundbreaking hybrid process within a user-friendly system, this 3D printer could soon emerge as the best affordable alternative to industrial-grade additive manufacturing systems created by HP and Stratasys.