Metal 3D printers break down into two umbrella categories: ones that sinter or melt metal powder with high heat, and ones that spray "binder" onto metal powder. Binder jetting printers roll layers of metal powder across a bed, then pass over it with thousands of tiny binder-spraying inkjets, similar to what's found in high-resolution 2D printers. The Desktop Metal Production System uses binder jetting – but instead of layering powder in one step then spraying binder in another, and doing each from a fixed left-to-right direction, SPJ combines each process in one pass and can print across the bed in both directions.
The system is symmetrical, with a single print head sandwiched between two powder spreaders that enable it to print in a sort of pendular motion across the X-axis. First, the spreaders meter out and compact metal powder into 50-micron layers. Then, a print head with two bars, one for binder and one for anti-sintering, sprays droplets at a 50×50 micron resolution on the XY plane. The anti-sintering agent creates an "interface layer" that won't fuse during post-processing, enabling users to add breakaway supports. Overall, the consolidated and bi-directional system enables high-resolution printing at 8,200 cm3/hr, which is orders of magnitude faster than prevailing sintering methods (SLS, DMLS, SLM) and gives it a substantial edge over other binder jetting printers that have less efficient movement and processes. Desktop Metal estimates printing a full build chamber (337 x 337 x 330 mm) takes just four hours, which is strikingly fast for any industrial metal 3D printer.
After the printer finishes, the freshly bound "green" parts still have two post-processing steps to go through. First, the parts are automatically de-powdered while still on the print bed to remove any unadhered material. Desktop Metal says this removes around 90% of the loose material, but the final 10% has to be removed manually (likely with a combination of shaking, brushing, and picking) at a depowdering station. Saving unused powder is an important cost-saving measure, and the Production System can reuse a noteworthy 80% while other powder systems typically max out at 50% used powder. The build chamber is gas-sealed and can be easily removed and transported to different stations using a cart system.
Once they're powder free, parts go through a "thermal treatment" that removes solidified binder to create a "brown part." It's unclear if this occurs while the parts are still in the printer after they're moved to the furnace, or if it takes an unspecified piece of hardware. Finally, parts are placed on sintering trays and fitted into a furnace that heats them to near-melting temperatures, burning away any remaining binder and fusing the bound metal powder into fully dense, solid metal.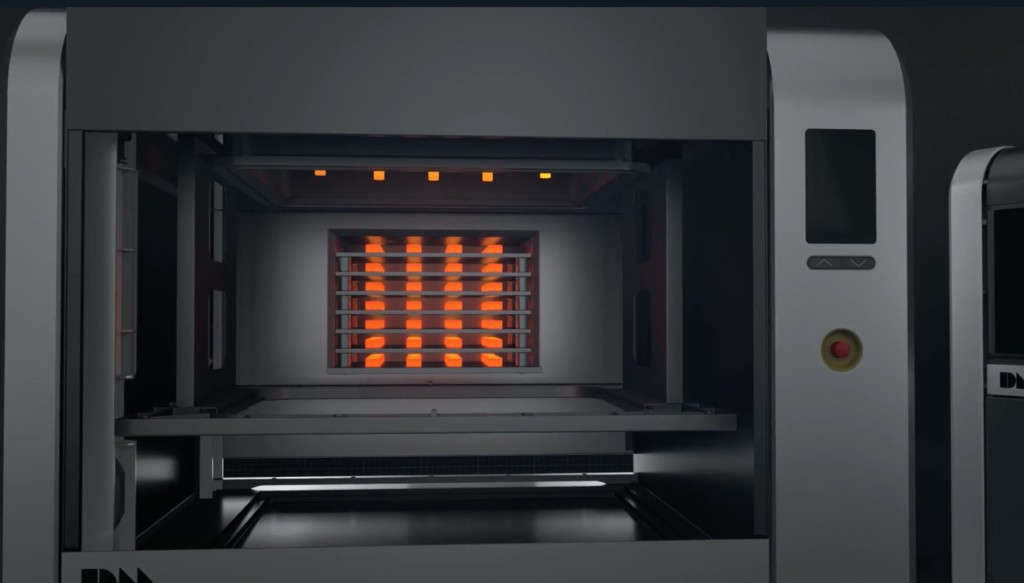 As far size, the DM Production System is big: just under 5m long and likely weighing more than 300kg. Considering the printer, build chamber carts, depowdering stations, and the standalone furnace, users will need some serious space to take full advantage of the device's throughput and speed. Plus, the Production System calls for 480V 3-phase power, which is the sort of juice larger workshop and lab devices require.
For an overview of the metal 3D printing industry, visit our 2018 Metal 3D Printer Guide: 2018 Metal 3D Printer Guide – All About Metal 3D Printing