CraftUnique, the maker of CraftBot Plug&Play 3D printers, is bringing the technology to classrooms through a strategic partnership with PrintLab, a UK-based curriculum provider.
Beginning in February, they will bundle the PrintLab Classroom curriculum with the CraftBot Plus 3D printer and ecosystem to form the CraftBot-PrintLab Education Package.
"Slowly, but surely, the 3D revolution took off within education," said Éva Szász, the head of marketing at CraftUnique, a Hungary-based 3D printer manufacturer. "But the real breakthrough has so far been hindered by a serious obstacle: apart from a few ground-breaking and enthusiastic teachers, most got stuck at the start."
Szász added that after months of research, their offering will create "the missing link."
The company's focus has always been on creating printers that are 'Plug&Play'—user-friendly enough that even first-timers can easily accomplish their first 3D print within a short period of time.
CraftBot Plus, one of the company's printers, even won the best Plug&Play award two years running from 3DHubs.com, a production platform for 3D printing with a user base of several thousand.
This because of CraftUnique's commitment to creating machines that require minimal supplies, are easy to maintain and are both highly reliable and durable. Feedback from loyal customers confirm the printer's massive metal frame and simple ergonomics have lived up to their expectations.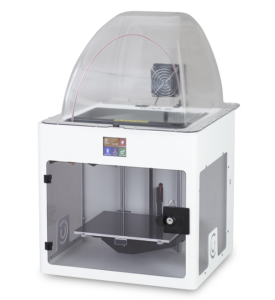 What Does the CraftBot-PrintLab Education Package Include?
One of the primary target markets for CraftBot Plus and XL printers are educational institutions like schools, universities, fab labs and makerspaces. CraftUnique products are the ideal match for these spaces.
Along with printers, CraftUnique also offers supplementary firmware developed in-house, Craftware, the free-to-download slicer software for printing and filaments.
PrintLab Classroom is a professional portal for teachers looking to integrate 3D design and object creation into core subject areas. Their mission is to link industry, technology and education, preparing students for using innovative technology from early childhood as part of everyday life.
Through their collaboration, CraftBot and its global network are now able to offer a package to educational institutions and teachers that contains everything for teachers to simply and easily start out in 3D design, object creation and printing.
Buyers of the package can expect a Plug&Play CraftBot 3D printer (either the CraftBot Plus or CraftBot XL) and a year of access to PrintLab Classroom training and curriculum.
This curriculum will give teachers 12 months of access to training resources and curriculum. Lesson plans are constantly expanded and contain instructional videos, student workbooks and images. The plans are in English, Polish and Greek, with plans to expand the languages its available in, including Hungarian.
The ecosystem will include safety accessories, an online PrintLab Certification Course, Craftware slicer, PLA filaments and 3D printer accessories.
The 3D training package will be first showcased in Europe at Bett (booth C175), one of the biggest education shows in London, and in the USA at FETC (booth 2736) in Orlando. The package will be available from CraftBot official partners and their web shops.
For more information, visit:
https://craftbot.com/education/
https://craftbotusa.com/education/