Want to learn more about the wonderful world of 3D printing? These 3D printing books are the perfect place to start. Start your 3D printing library today!
Knowledge comes in many forms and formats. You may be learning about 3D printing from resources on the internet, or you may be rolling up your sleeves in a workshop at your local FabLab. But did you know that there are some great 3D printing books out there, too?
The number of reference books published about additive manufacturing is growing steadily. Some of them are designed to be project guides, others about the history of the industry, and yet more about learning specific software packages related to the technology.
There are even books about getting rich from 3D printing, but we're not so sure about the likelihood of that…!
We've rounded up the most popular 3D printing books out there, so you can start building a reference library of your very own. Let us know in the comments if we missed any of your favorites; we'll make sure to add them in a future update.
---
3D Printing Library #1: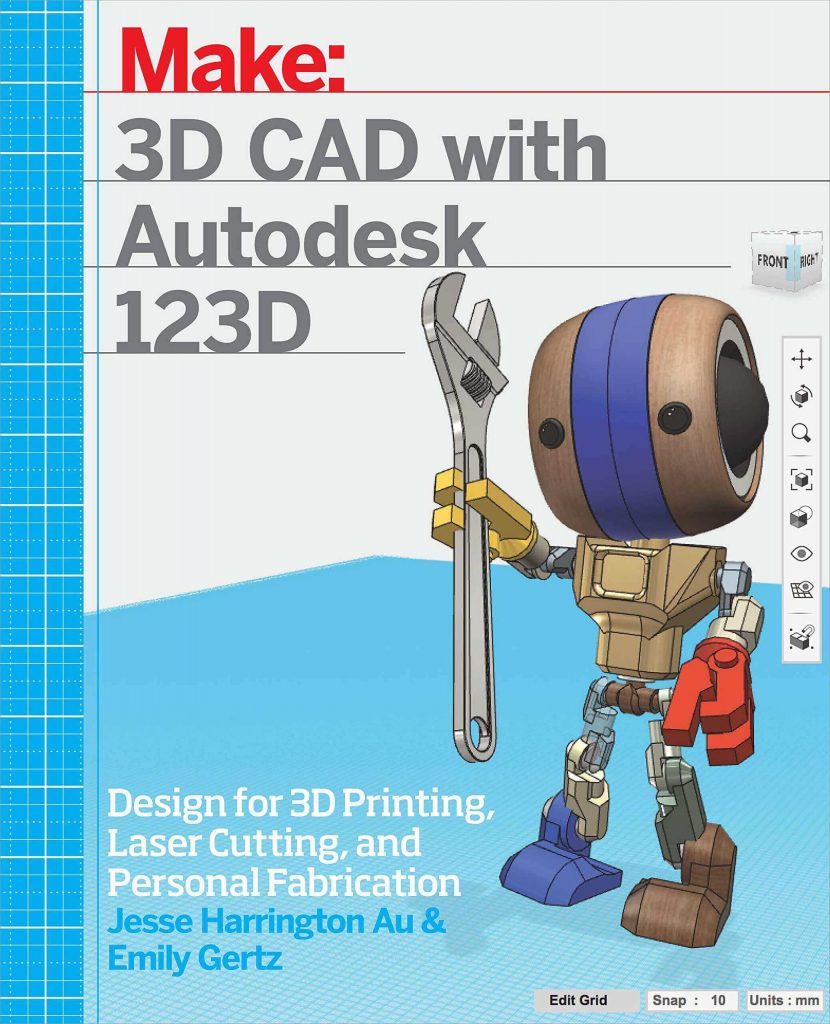 A-ha! It may surprise you to see that the top title on this list is about 3D modeling software. But the fact of the matter is, before you get stuck into learning about 3D printing proper, it'd also be a huge benefit to learn about computer assisted design (CAD).
If you can master CAD, you'll be empowered to develop your own ideas to design objects for 3D printing. And once you're up and running, you can share your work on several 3D printing community platforms, and — through the power of Creative Commons — see that work be printed and appreciated by many others.

Added bonus: 3D modeling skills have applicable value in other fields like games development, industrial design, and more. From the publishers of MAKE magazine, 3D CAD for Autodesk 123D is a good place to start.

---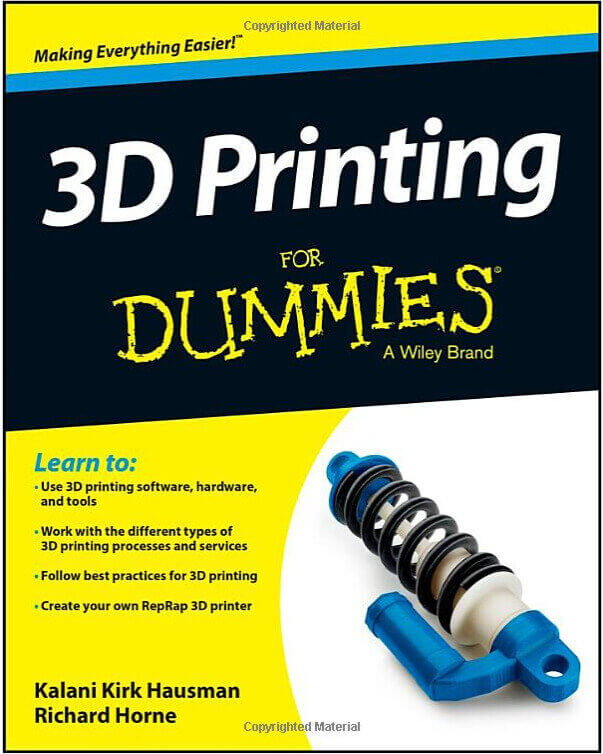 Granted, the title is a little obnoxious. Who are you calling a dummy? But rest assured, 3D Printing for Dummies is an expert guide, written by two folks who are passionate about 3D printing and keen to share their knowledge.
So yeah, as the cover blurb promises, you'll learn to use 3D printing hardware and software, learn about different techniques, follow best practice, and — if you're so inclined — even follow step-by-step instructions to build your own RepRap 3D printer.
Here's what one customer had to say: "I gave this book 5 stars because I enjoyed reading it. For me it explained all the aspects of 3D printing in one place which allowed me to become familiar with the techniques, language, engineering and applications of 3D printing in a weekend. After reading this book I am confident about getting into and purchasing a 3D printer."
---
Perhaps the single most annoying question about 3D printing is: "Will it make me rich beyond my wildest dreams?!" This book sets out to provide an answer.

Yeah, perhaps it is is a cynical proposition. But to his credit, author Jeffrey Ito flips this notion on its head, arguing that the single most important investment you can make is in yourself. If you can study and learn everything possible about 3D design, 3D software and the 3D printing process, you'll be in a stronger position to turn opportunity into profit.
But don't take our word for it. ALL3DP has published several extracts from the book with the permission of the author, which you can read in full before deciding to buy the book. Check them out here, here and here.
---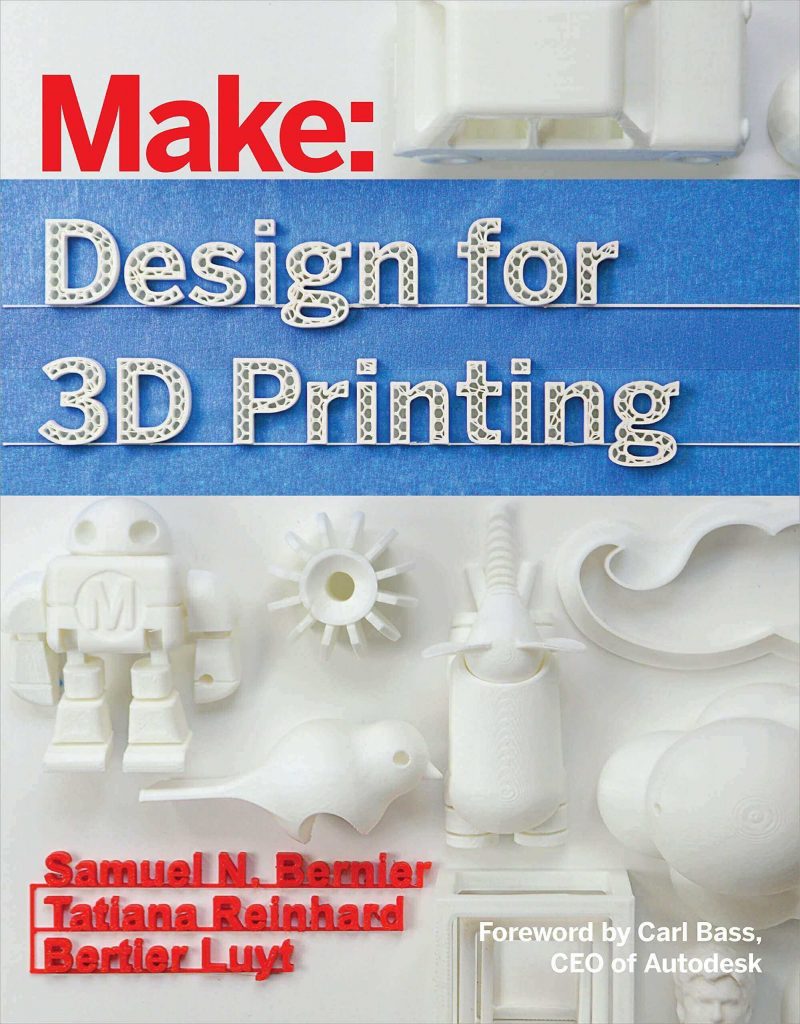 More 3D printing books from the MAKE stable, but the special thing here is the team of authors who wrote it. Sam Bernier and the rest of his team at Le FabShop in France have unparalleled experience in testing 3D printers and creating digital models. Their creative commons licensed designs are some of the most impressive in the 3D printing ecosystem.
According to the blurb, "this book uses their work to teach you how to get professional results out of a desktop 3D printer without needing to be trained in design." With a series of tutorials and case studies, readers can learn the techniques to turn a product idea into a 3D model and a functioning prototype.
Best of all, the emphasis is on free design software and affordable technologies, so the exercises in this book are genuinely accessible to all.
---
Mastering 3D Printing is perhaps the closest thing to an educational textbook on this list, aimed at folks who wish to move beyond printing key-chains and toys and onto something more substantial.
Here you can learn all the technical details to graduate from simple model printing to more advanced designs in the service of a small business or an educational workshop. More importantly, additive manufacturing is considered in the context of other manufacturing techniques, so you're better equipped to pick the right approach to each project.
---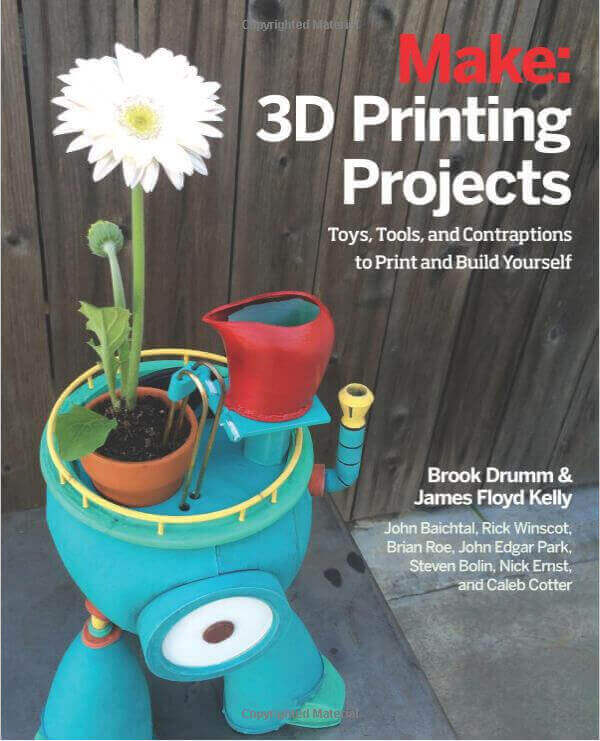 Those MAKE guys again? Ah, but here we see the publisher continuing the winning formula of hiring "celebrity" authors to write the book. This title is written by the charismatic founder and CEO of Printrbot, Brook Drumm, in tandem with members of his staff.

The concept behind 3D Printing Projects is to bring together fabricated parts with electronic components to create more complex items. This is where you can learn how to build a modular lamp, a radio-controlled car, a retrofuturistic ray-gun, a robot powered by Raspberry Pi, and much more besides.
---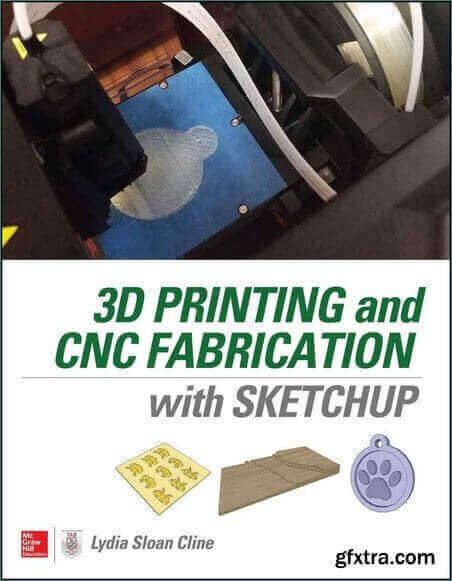 Another dedicated resource to CAD software, this time around the popular 3D modeling tool SketchUp. ALL3DP has published a few tutorials around this application too, but that's barely scratching the surface. This book tells you everything you need to know.

Note also, that there's some crossover between CNC milling and 3D printing. That's because there are underlying principles that apply to both technologies. If you're going to take the trouble to learn about one, you may as well benefit from learning about the other. Economies of scale, and all that jazz.
---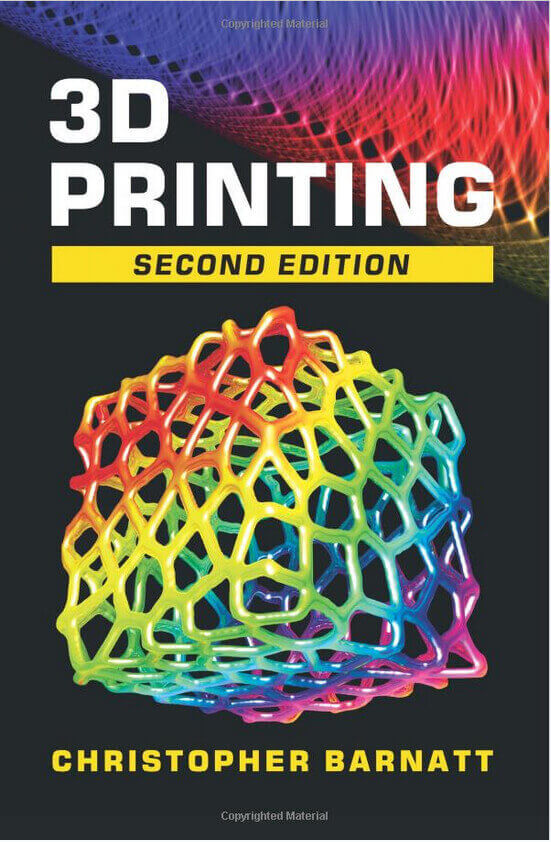 A simple title about a complex subject. 3D Printing: Second Edition is not what we'd call a reference book for additive manufacturing. You won't find instructions for leveling a print bed in here. But it's a great overview of the technology that explores the impact it may have in the future. Each copy is published to order, so it's environmentally friendly, too!

Readers will learn about the major players in the industry, the different kinds of hardware and software currently available, and potential applications for the future. It's especially good in articulating why 3D printing is such an important technology, without resorting to exasperating hyberbole.
According to customers, the book is "Absolutely fascinating. Made me want to learn even more!" No doubt the author is working on a 3rd edition for 2016.
---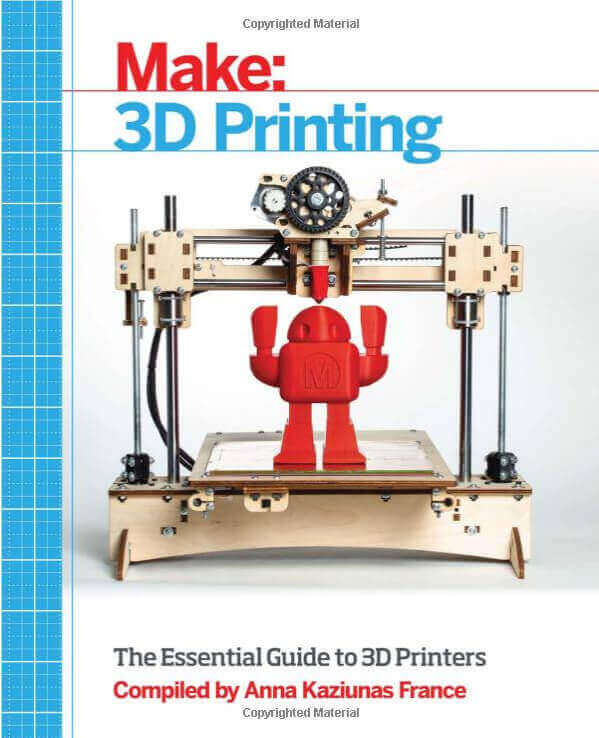 Yet another MAKE publication, who clearly have a strong portfolio of 3D printing books.
Billing itself as the essential guide, the book is stuffed full with informative articles, case studies and tutorials about the wonderful world of additive manufacturing. Every chapter is filled with quality photos and charts to better illustrate their concepts, and the book is regularly updated to keep pace with technology that's rapidly evolving.
Says one customer: "Good introduction to 3D printing, you could find most of this information on the web and I knew that before I purchased. However I wanted everything in one easy place to research. If you're new to 3D printing this is a good place to start."
---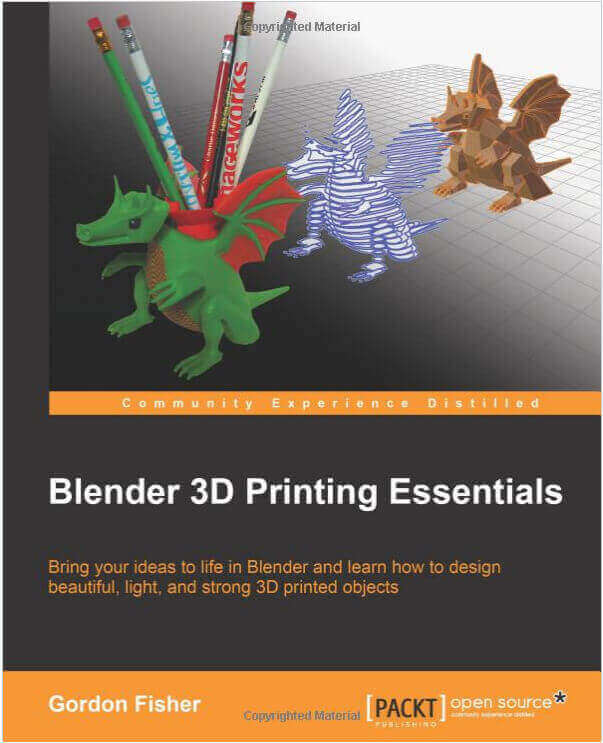 A third dedicated CAD software guide, this time for Blender. The point of difference for this application is that it has a dedicated suite of tools specifically for 3D printed objects. With an end-to-end process in mind, you can design a 3D model knowing that it has been optimized for 3D printing at the outset.
It's a bold claim, considering that the skills required for 3D modeling are pretty much universal. But this title promises to teach you about consideration for unique 3D printing requirements such as structural integrity and stability, so that the final object can be "beautiful, light, and strong".
License: The text of "Build a 3D Printing Library: The Best 3D Printing Books" by All3DP is licensed under a Creative Commons Attribution 4.0 International License.
Subscribe to updates from All3DP
You are subscribed to updates from All3DP
Subscribe
You can't subscribe to updates from All3DP. Learn more…