Another CES, another clutch of 3D printer announcements. And as has become tradition, household brand Polaroid (it of instant-photograph wafting fame) is right there in the thick of it with colorful new products.
Well, in this year's case, product: the PlaySmart 3D printer. Produced, as with previous year's machines, under license by Environmental Business Products, the PlaySmart appears to be a continuation of the brand's focus on beginner-friendly devices.
"Since we first launched the Polaroid ModelSmart 250S 3D printer at CES in 2016 and our Polaroid Play line of 3D pens in the years since, we've had a great response from users in the UK and Europe who are looking for accessible 3D printing products" explains April Lunde, CEO and General Counsel at Polaroid.
Priced competitively at €449 (approximately $515), and packing Wi-Fi connectivity and a nifty smartphone app for control, we foresee the PlaySmart doing battle with the likes of Flashforge and Monoprice (which has recently expanded its European operations).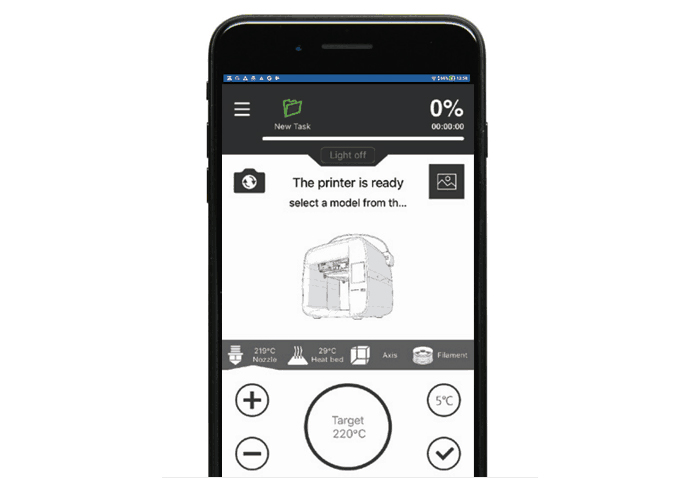 What's it All About
On appearance alone, the Polaroid PlaySmart is nothing we haven't seen before. It's uncannily similar to the Wanhao Duplicator 10 from the front, iconic Polaroid branding and 'spectrum' color accents excluded, of course.
The print volume of 120 x 120 x 120mm is comparable to the Monoprice Select Mini and is marginally larger than its lookalike Duplicator 10.
Perhaps the most notable distinction of the Polaroid PlaySmart is the Polaroid app control, which allows the user to send models directly to the printer, control temperatures and remotely view the print progress via the printer's inbuilt camera.
Onboard memory of 2GB provides room for model storage, and, curiously, video recordings of prints.
The Polaroid precise filament holder — an add-on that the says will allow you to know precisely how much filament is left on your spool — will also be included. We assume this works through some combination of you inputting a full spools' factory weight, along with the device actively weighing what's left as you print.
Due to release in Europe and the UK in March, it'll be interesting to see how this little printer is received.
Source: Press release