As anyone who has sat for hours molding pottery by hand can attest to, ceramic 3D printing has the potential to provide the world of art and architecture with untapped creativity. At the moment, there is a finite amount of solutions involving ceramic 3D printing technology, but nonetheless, this niche market is growing steadily.
One machine that has gotten the kiln-loving community fired up is the CERAMBOT 3D printer, a new product that has recently smashed its crowdfunding goals on Kickstarter. Unlike other ceramic 3D printers, which are typically expensive and relatively difficult to use, the CERAMBOT prides itself on being a highly affordable and accessible option.
As of Tuesday, December 4th, the CERAMBOT has acquired over $170,000 within a weeks' time, surpassing its intended funding goal by a whopping 1740%. In fact, this ceramic 3D printer has already been recognized as Kickstarter's Project We Love. According to the manufacturer, the fully functional printer is available at $199, while the standalone extruder costs $39.
"Until now, ceramic 3D printing has been prohibitively expensive and difficult to use, making it a challenge for personal users. But we believe that imagination should be set free with a simple and affordable way to unleash ideas. That's why we created the CERAMBOT 3D printer. It's fast, accurate, easy to use and it's the most affordable printer of its kind. With CERAMBOT, your ideas, creativity and passion can finally take shape," the team writes on Kickstarter.
Is this another Kickstarter pipe dreams? Or could the CERAMBOT usher in a new age of ceramic 3D printing? Of course, as with all crowdfunding projects, the information regarding this printer should be taken with a grain of salt. However, the CERAMBOT team seems to have a viable project in the making, and many backers are jumping onboard the ceramic 3D printing train.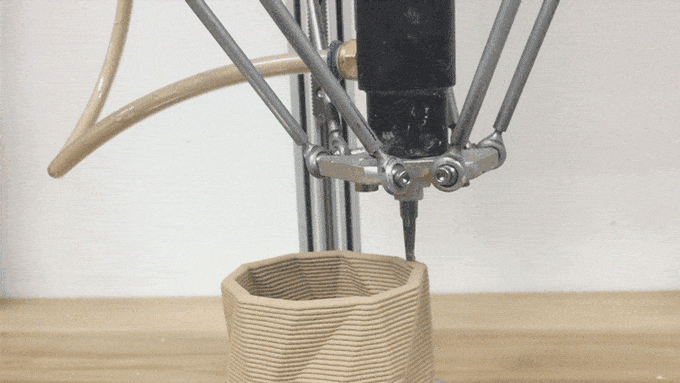 How Does the CERAMBOT Work at Such an Affordable Price?
The CERAMBOT Pro is a delta-style 3D printer that will function as a plug-and-play machine, taking just a few minutes to get up and running. All users need to do is attach the extruder to a 3D printer, fill the cartridge with clay, slice the 3D model, and start printing your sculpture.
What sets this machine apart from the pack? Instead of utilizing an air compressor, which is the basis of most ceramic 3D printer, the CERAMBOT is equipped with a patented worm gear that is ultimately more user-friendly. The manufacturer claims that its worm gear mechanism leads to exceptional print quality and increased stability, while also eliminating air bubbles from the mixture.
Alongside the specially designed worm gear speed reducer, the CERAMBOT Pro is also equipped with a 57 stepper motor (Nema 23) and a TB6600 driver. In addition to these components, the CERAMBOT Pro is also built with an industrial-grade linear guide rail and high-precision motor drive extrusion that allows for fast printing while maintaining a mechanical precision of 0.1mm. The team has developed the control module in two separate modes: it can either be controlled manually or accept signals directly from the control board.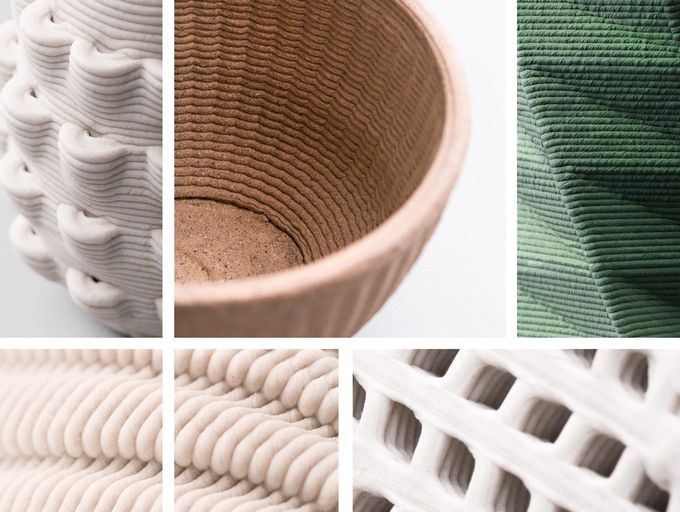 The manufacturer is providing a variety of different nozzle sizes, from 0.8mm to 2mm. Once the ceramic object is printed, the material remains pliable, which means you can modify and customize the sculptures as you see fit.
Another aspect that makes the company's product launch unique is that they aren't just trying to sell ceramic 3D printers on their own. The CERAMBOT team is also offering an Air Extruder Kit that is compatible with almost all basic FDM 3D printers. On top of that, the ceramic 3D printer works with nearly every popular open-source 3D printing slicing software, including Cura.
At the moment, the CERAMBOT team is offering their 3D printer and extruder kit to early backers for $199. There are a number of other rewards that are being offered on the Kickstarter page, which you can check out here. Check out some more initial prints from the ceramic 3D printer below.
And, as you should always do while exploring the confines of Kickstarter, please remember to use your best judgment and back projects responsibly!