Why you should read this: to find out about some of the coolest and most original experiments with 3D printing – 3D printed speakers!
The love story between 3D printing and audio speakers is likely to have begun some time ago when, although no one has yet directly publicized it, many high end audio speaker producers use 3D printing as a mean to rapidly prototype new models. Now a new chapter in 3D printing audio speakers has begun with the spread of consumer technologies. More and more people have been experimenting and creating their own designs and their own 3D printed models. While it is not yet entirely clear what a home-made 3D printed speaker can achieve in terms of audio quality, some of these designs are truly amazing from both a technical and an aesthetic point of view.
Unique designs for everyone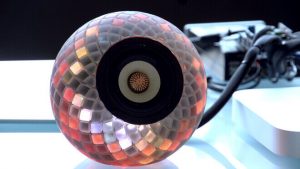 The development of DIY 3D printed speakers can be divided into three major categories. One, the most common, is that where users 3D print the speaker's external enclosure, experimenting with new shapes and materials. These projects have already yielded some amazing results. The first was built by LumiGeek founder John "Parts" Taylor and Autodesk applied innovation engineer Evan Atherton. They published it as an Instructables project to create a series of speaker enclosures using a high-end multimaterial Objet Connex 500 3D printer by Stratasys. Since the material used costs over $2.000 it is unlikely that this will become a commercial project anytime soon but it is still something beautiful to look at.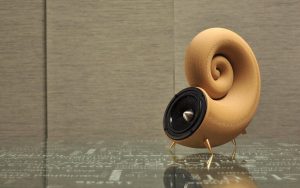 Much more affordable and no less beautiful is the Akemake project. Ondra Chotvinsky created the Spirula, an amazing 3D model, which it made available for free on the design studio's website (currently being updated). It was 3D printed it using a special kind of 100% natural wood-based PLA filament provided by Czech Republic based Fillamentum. The Woodfill material made the Spirula speaker look like an object of high end design, which can be produced at home for just over 100 euro (of which about 50 euro are for the Woodfill spool, with the speaker requiring about 650 grams).
Making Noise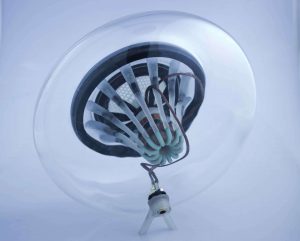 The second type of approach to 3D printing a speaker is by 3D printing the actual diffuser parts. This is to be seen more as an exercise in material science, as resin based 3D printers are now capable of producing thin, flexible layered objects for sound reproduction. One again there have been a couple of different experiments in this sense. The first was carried out by Simon Ellison, who redesigned a desktop speaker using the same Objet500 Connex Multi-Material 3D Printer mentioned earlier. The result of his collaboration with an audio engineer is the Expose 3D Printed Speaker.
Printed in 9 hours as one complete piece, it eliminated the need for glued junctions. Each part was then taken and redesigned to fit in with the multi material printers capabilities. The cone was reinforced with a honeycomb structure and the spider was designed to allow an easy cleaning structure that still holds the coil central in its movement.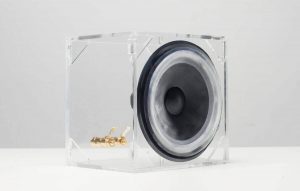 Only a few months later a new project was presented that has made 3D printed speakers more affordable. Using the $3.000 Form1+ desktop 3D printer. Adam Lebovitz's conceived the speaker to work with Formlabs' new Flexible black resin: all he needed to add was a little wire, magnets, a screw. Once again the 3D model – which was presented at the CES show in Las Vegas – has been made available online for users to replicate at home. Although I have not had the opportunity to hear how it sounds, several reports from CES confirmed the products' sound quality.
Geometrical amplification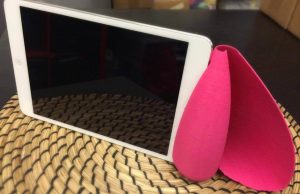 The last type of approach consists in using 3D printing and open source collaborative development to create objects that can amplify sound solely through their geometrical shape. This is not something new to 3D printing. Several iPhone accessories have been sold that used a cone or a large horn shape to work as natural sound amplifiers. The difference is that 3D printing can make these speakers freely available to anyone and also let anyone contribute to their development.
This is the approach chosen, for example, by design studio Bhold. Through ha collaboration with Ultimaker and the Ultimaker community Youmagine. Behold created the base for a natural iPhone amplifier, which it made freely available online. After scared iteration (as many as 50) were developed by Bhold's designers and by Youmagine users, a final product was made available for sale through the Shapeways online 3D printing marketplace in a version that is professionally 3D printed by laser sintering. The same approach is now being implemented for the new iPad Shell Amplifier. If you are curious to hear how it sounds, all you have to do is download it, 3D print it to the tune of "We all Want a Revolution".
License: The text of "3D Printed Speaker Rocks!" by All3DP is licensed under a Creative Commons Attribution 4.0 International License.
Subscribe to updates from All3DP
You are subscribed to updates from All3DP
Subscribe
You can't subscribe to updates from All3DP. Learn more…