Using 3D scanning and additive manufacturing, a 3D printed Playmobil hair bike helmet is designed to encourage cycle safety with young kids.
This "hairmet" could change your perspective on safer cycling. It's a bike helmet in the distinctive shape of the hair taken from a Playmobil figurine.
But this prototype wasn't created just for jolly japes. It's meant to tackle the thorny question of cycle safety for young riders.
The helmet was created by Simon Higby and Clara Prior from the Stockholm and Copenhagen offices of advertising agency DDB. It also formed part of their MBA thesis.
As the video below points out, "every fifth hour a child sustains a serious head injury" while riding a bike. Yet research conducted by the pair revealed that 44% of children do not wear a helmet.
So the designers challenged themselves to design a helmet that kids would want to wear. Watch the video below to learn more about the production of the helmet:
Is there a Future for a Playmobil Hair Bike Helmet?
The prototype was made last year by the Danish design company MOEF. The process began when the team at MOEF removed the hair from a Playmobil figurine and 3D scanned it.
The hairpiece was then modeled into a helmet using CAD software, and scaled up to a human scale size and shape. Next, it was 3D printed on an industrial machine with selective laser sintering (SLS).
The finishing touches were to spray paint the helmet using a brown which was color-matched to the original Playmobil model, and add some safety straps and padding so it could be secured in place.
Unfortunately, the Playmobil hair bike helmet hasn't progressed further beyond the prototyping stage. When asked about future production plans, Higby explained to Metro: "I would love to do that. We just don't know who right now."
In the mischievous spirit of the internet, meanwhile, users on Reddit had a go at modeling the new design on professional windbag Donald Trump. The results are rather fetching, we're sure you'll agree.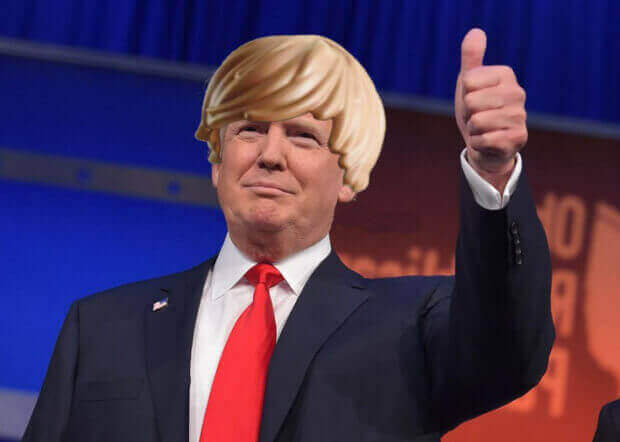 License: The text of "3D Printed Playmobil Hair Bike Helmet Prototype" by All3DP is licensed under a Creative Commons Attribution 4.0 International License.
Subscribe to updates from All3DP
You are subscribed to updates from All3DP
Subscribe
You can't subscribe to updates from All3DP. Learn more…