3D printed fashion is becoming increasingly more popular. From shoes to high fashion, the industry is slowly changing. And art galleries and museums such as the High Museum of Art in Atlanta swing aboard the train.

Dutch fashion designer Iris van Herpen has recently drawn attention to her 3D printed work thanks to 3D printing a dress at Paris Fashion Week.
However, now, along with the celebratory attention from collaborations after collaborations with a number of notable artists, architects and musicians, including Rem D. Koolhaas, Beyoncé, Lady Gaga, and Tilda Swinton, van Herpen now has the art world interested in her work too!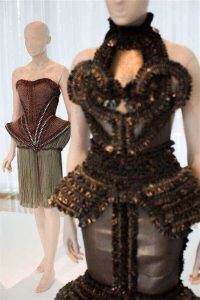 Last week, Atlanta's High Museum of Art debuted an exhibition dedicated to van Herpen's designs called Iris van Herpen: Transforming Fashion.
"It's our first show about fashion," says Sarah Schleuning, curator of decorative arts and design at the High Museum to The Washington Post. According to her, Iris van Herpen "is not a big house. She's someone relatively early, I hope, in her career. We want to be the institute that took a risk and brought her to the U.S."
The exhibit at Atlanta's High Museum of Art features 45 of Iris van Herpen's designs from 15 of her collections, which range from the beginning of her career in 2008 to the present.
"In the first years I had my label, I did everything by hand. I didn't even work with a sewing machine," Van Herpen says. "At some point, I realized I had reached a level of control I couldn't go beyond. I saw 3D printing in architecture, where it's used for modeling. I was struck by the complexity and detailing it was able to do."
In van Herpen's view, 3D printing does not threaten the survival of the human touch. With 3D printing, she could build prototypes of designs in a single season, when doing it by hand could easily have taken three or more years to complete.
"Sometimes, a 3D-printed dress has a structure we were never able to do by hand. But because of the process of file-making, we understand the structure, and we are able to do it by hand afterward."
Next year, her work will be featured in New York at the Metropolitan Museum of Art's spring Costume Institute installation Manus x Machina: Fashion in an Age of Technology.
What do you think of these designs?
License: The text of "3D Printed Fashion Hits High Museum of Art" by All3DP is licensed under a Creative Commons Attribution 4.0 International License.
Subscribe to updates from All3DP
You are subscribed to updates from All3DP
Subscribe
You can't subscribe to updates from All3DP. Learn more…