The Kodak Portrait is a professionally pitched dual extrusion fused deposition modeling (FDM) 3D printer. Priced at $3,499, it sits squarely amongst the likes of the Ultimaker 3, MakerGear M3-ID and BCN3D Sigma R19 concerning price and capability.
Multi-material printing is handled on the Kodak Portrait via a dual print-core style print head that's similar to Ultimaker's "Print Core" concept, introduced in the Ultimaker 3.
Accepting any combination of PTFE and all-metal hot ends to meet a wide variety of material requirements, it's interesting to see such a system gain traction. Despite their similarities, Kodak's implementation requires a little more manual work in removing the print head housing to make the switch.
The inactive nozzle is mechanically retracted clear of the print to assist in preventing oozing and create clean transitions between materials and colors.
Feeding this versatile print head is a dual Bowden extruder arrangement, which is in turn fed from one of the more interesting inclusions of the Kodak Portrait — reusable moisture-resistant filament cartridges.
Not the most high tech of features — essentially two lockable clear plastic cases with compartments for silica pouches — these Kodak filament-compatible units mean that it's possible to load up hygroscopic filaments such as Nylon (which is part of Kodak's ecosystem of materials for the printer) and print for days without fear of moisture-induced misery. It's not revolutionary, but a thoughtful rarity nonetheless.
The Kodak Portrait has a 200 x 200 x 235mm print volume, with a removable glass bed that snaps into place using magnets. Heating to 105 and 295 degrees Celsius respectively, the bed and hot ends are just so to aid the machine in tackling a wide range of materials including HIPS, PETG and multiple grades of Nylon.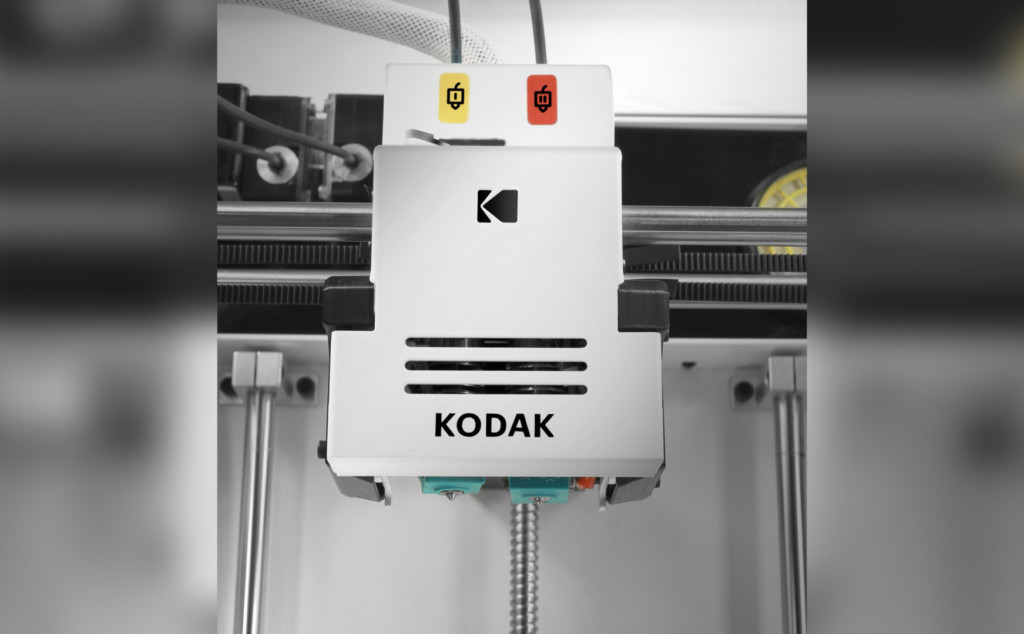 A rigid all-steel frame with clear acrylic sides and ceiling completely enclose the print chamber, creating a friendly environment for printing temperature sensitive materials. A HEPA and activated carbon air filter tackles the VOCs released during the printing process, up to a point.
The locomotion system features linear rails for stability in the X and Y axes and a precision ball screw for the Z axis, in a Cartesian-XY-head arrangement.
Pitching for effortless operation, Smart International opted to use the experience of 3DPrinterOS for print job generation, printer control, and farm management. Skinned in Kodak's distinctive yellow color and branded as Kodak 3D Cloud, the resulting software and printer UI prioritizes simplicity, with Kodak material profiles removing the guesswork and trial-and-error often required in printing.
Operable via a web browser from anywhere with an internet connection, this cloud approach to print management allows the Portrait to slot into a network of machines with no load on the machine itself. An inbuilt Raspberry Pi 3 keeps things humming along, with direct operation possible via the printer's 5-inch color touchscreen.
Offline operation is also possible via the Kodak 3D Slicer for print preparation, shifting print jobs to the Portrait using LAN or USB.
Overall the Kodak Portrait is an intriguing proposition. Including a suite of quality of life features that the direct competition lack for a similar price point sends a clear message, and with a bankable household name slapped across the front of the machine it is, without doubt, one of the more interesting 3D printers to launch this year.
Expect a full review of the Kodak Portrait from us in the not too distant future.